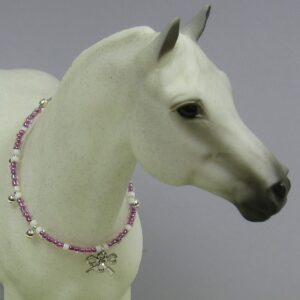 I am pleased to announce the launch of a new product line: SteedBeads™ Rhythm Beads for Model Horses. These beautiful necklaces are sized to fit Breyer® Traditional size (largest) model horses, but they may also fit other model horse brands and sizes. My model horse rhythm beads are available in two sizes: Small (fits Arabian and other smaller breeds) and Medium (fits average size breeds, such as the Quarter Horse shown). These model horse accessories do not stretch, so ordering the correct size is important. They should lay comfortably on the horse's shoulders or "drive line," as shown in these pictures, where their jingle will most closely match the horse's stride. My website provides instructions for measuring your model horse so you may determine which size to order.
These horse necklaces typically feature glass beads and a variety of colors and pendants. The tiny gold- or silver-plated "bells" are not large enough to jingle, but they simulate the bells on the jingling SteedBeads rhythm beads I make for live horses. Like all my SteedBeads products, these beautiful necklaces for model horses are sturdily designed for long-term active use and play. They are strung on strong plastic-coated multi-strand metal wire, and the ends are well secured with a unique clamping mechanism that looks like an additional gold- or silver-plated bead. They are worn by slipping them over the model horse's head.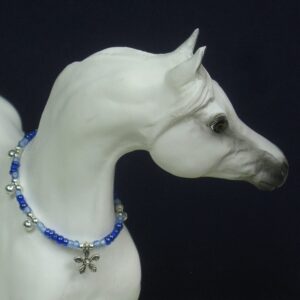 Although the "bells" on these SteedBeads rhythm beads are too tiny to actually jingle, when rhythm beads are worn on a real horse, their bells' soothing jingle may:
Help your horse relax and be less spooky on the trail.
Encourage your horse to run faster in speed events, such as barrel racing.
Warn wild animals (and hunters) that you're coming so they may get out of your way (and not shoot you).
Help you and your horse change gaits precisely and maintain a steady pace.
Help young horses and riders develop confidence.
Their use is popular with speed event riders as well as dressage, trail, endurance, and other riders.
Check my website to see the currently available selection of model horse rhythm beads, as well as durable readymade and custom SteedBeads for your real horses. Full-size SteedBeads rhythm beads are adjustably sized to fit your real horse and strung on 500 lb. strength cord. They have a mane clip at the withers; a variety of beautiful beads, bells, and central pendants; and a unique breakaway safety device that protects the beads and your horse should they catch on something. Jingling Saddle Dangles and Mane Dangles are also available.
Warning: SteedBeads rhythm beads for model horses contain small parts, so they are not suitable for children under age 3 .