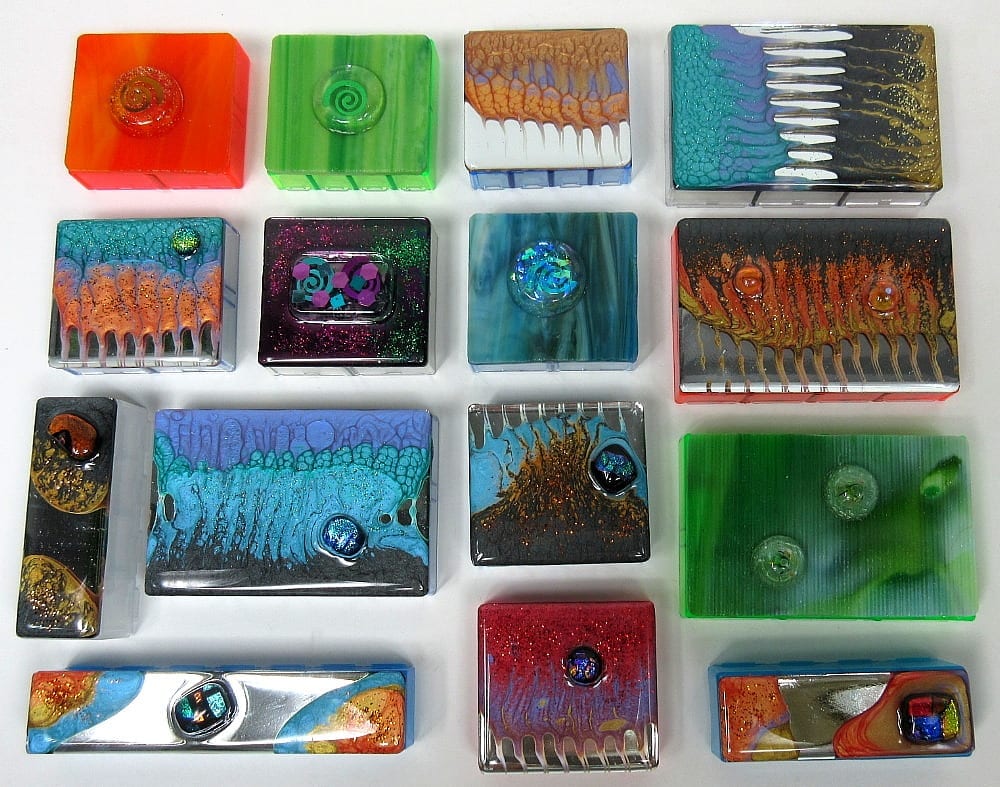 My previous mirrored and enameled pillboxes have been so popular that I recently created a new batch featuring mirrored glass and marbeled enamel techniques. Using a comb-like tool, I was able to marble the enamel and draw it partially over the mirrored surface, creating effects that sometimes look like a stand of trees. I love how the enamels reacted to being marbled in this way! I added some beautiful resin or dichroic glass cabochons to the cured enameled surface before pouring a protective layer of clear jewelry quality resin over the entire box top. This resin layer added depth to the design, firmly seated the cabochons, and offered the opportunity to add harmonizing glitter in the resin for even more bling.
These pillboxes are mesmerizing in hand and especially in the sunlight. The design on the box below looks like a stand of turquoise trees. The mirrored background peeps through their trunks for additionial sparkle. Glitter in the resin adds twinkle to the trees and their roots.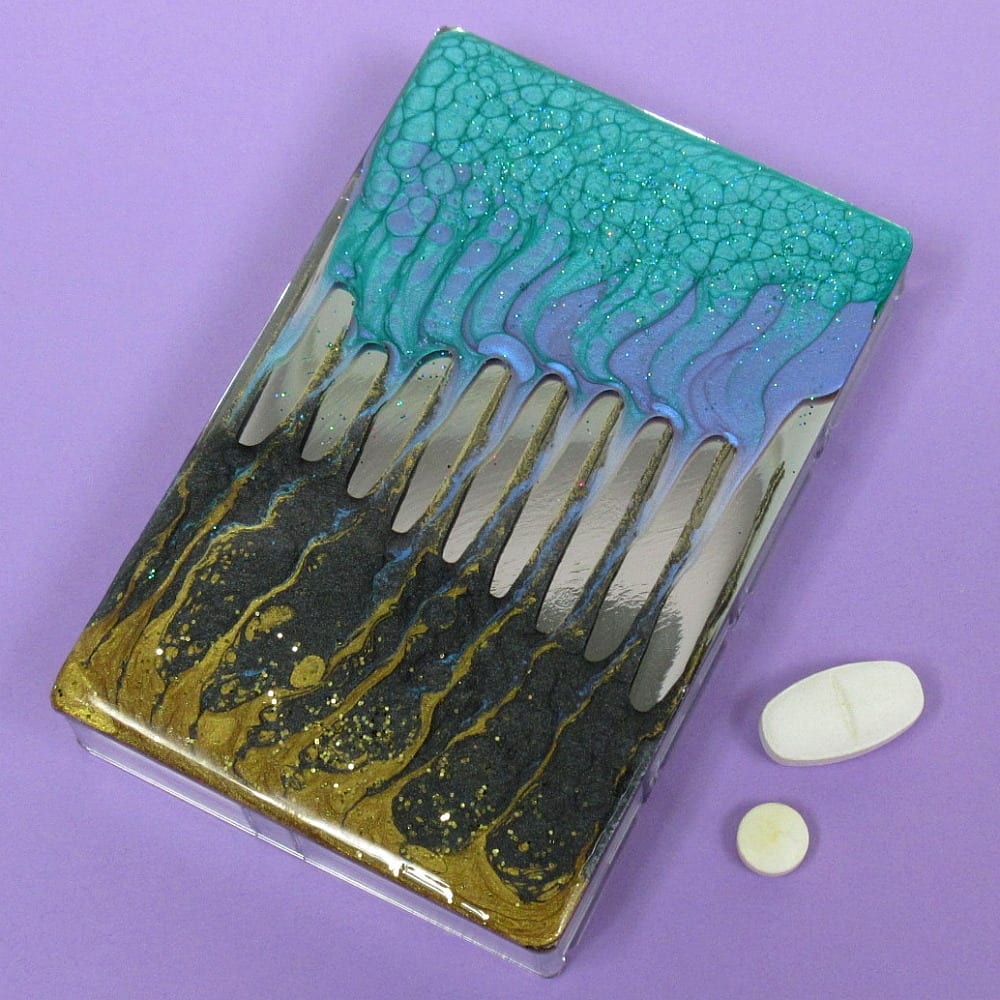 Several of the above pillboxes feature resin cabochons that I personally cast in special molds. The domed cabochons on the large green box feature submerged striped cane glass beads, which resulted in the cabochons having vertical colored stripes circling their centers. Other resin cabochons shown contain mirrored swirls, pailettes, glitter, beads, and/or iridescent fibers.
The green and solid orange pillboxes shown above feature resin cabochons on stained glass tops with no mirrors or enamel or resin layers. The glass on the large green pillbox has a lovely ribbed finish.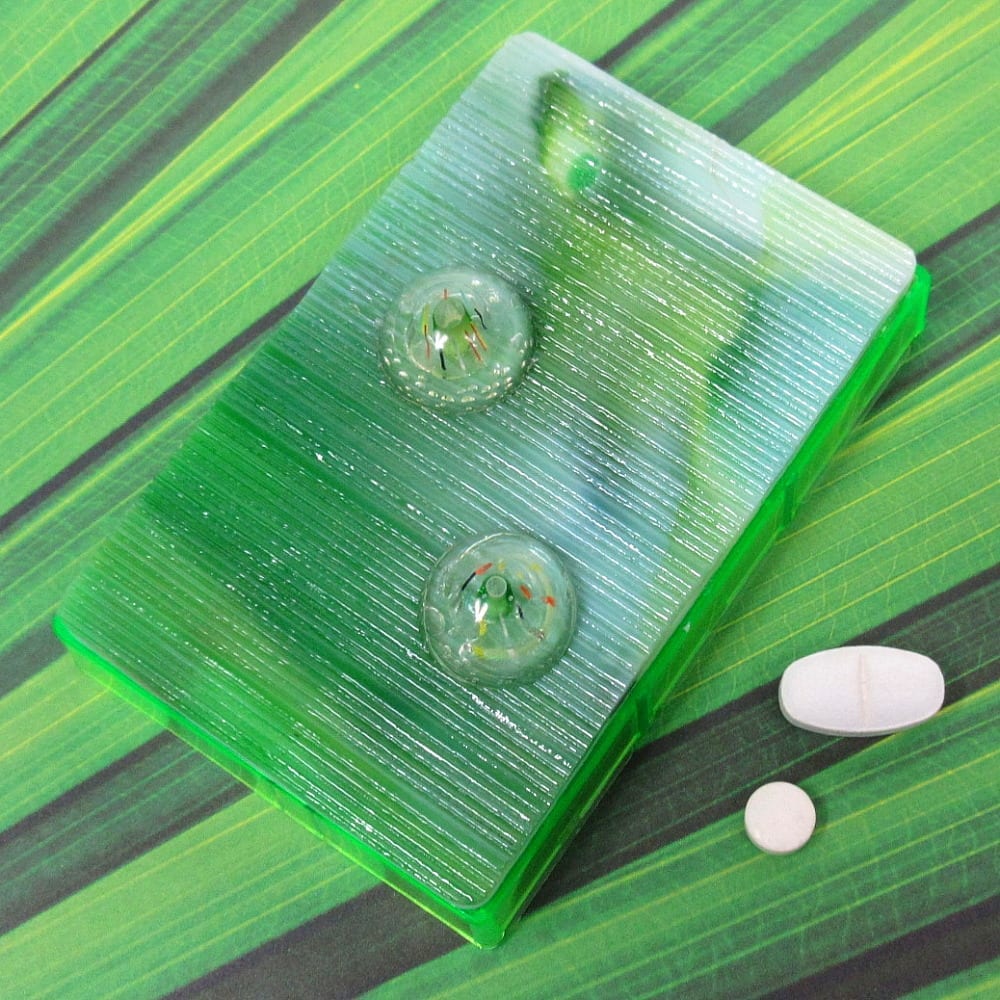 Most of these pill organizers also incorporate three new base box designs/shapes that I've recently been able to acquire from a new supplier: 4-dose, 8-dose, and 7-dose rectangles. The 8-dose box is the same size as the 4-dose box, so it offers a petite box for a week's pills or to contain small morning/evening doses for a 4-day period.
The new base boxes offer clean lines and come in a wide variety of solid and transparent colors. I am looking forward to being better able to harmonize the colors of my base boxes with the tops and embellishments on future pill dispensers in these sizes. Previously, I've been limited to just a few available colors of base boxes. Here is a look at the undersides of these new base boxes: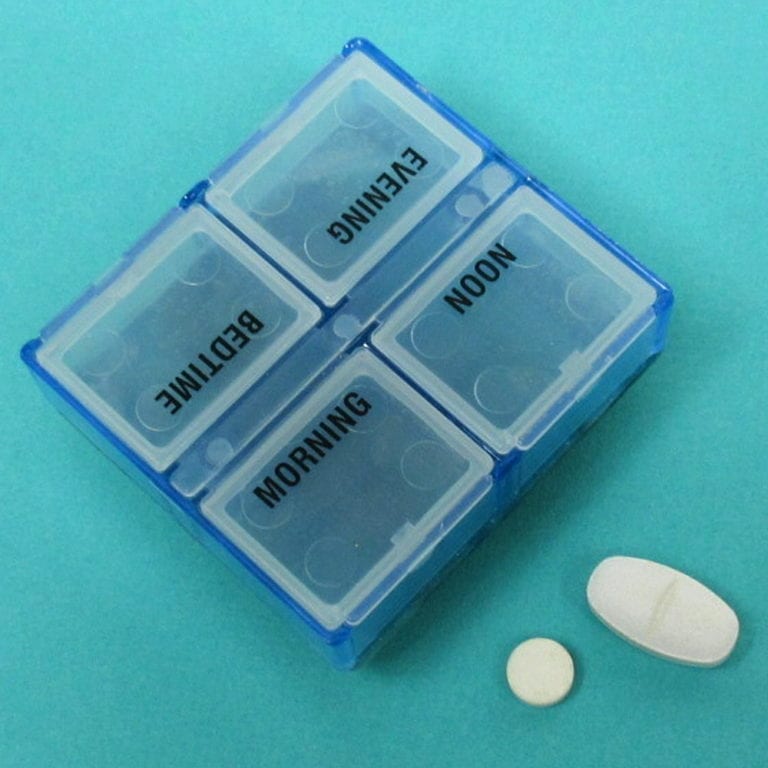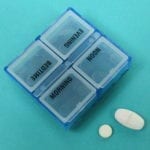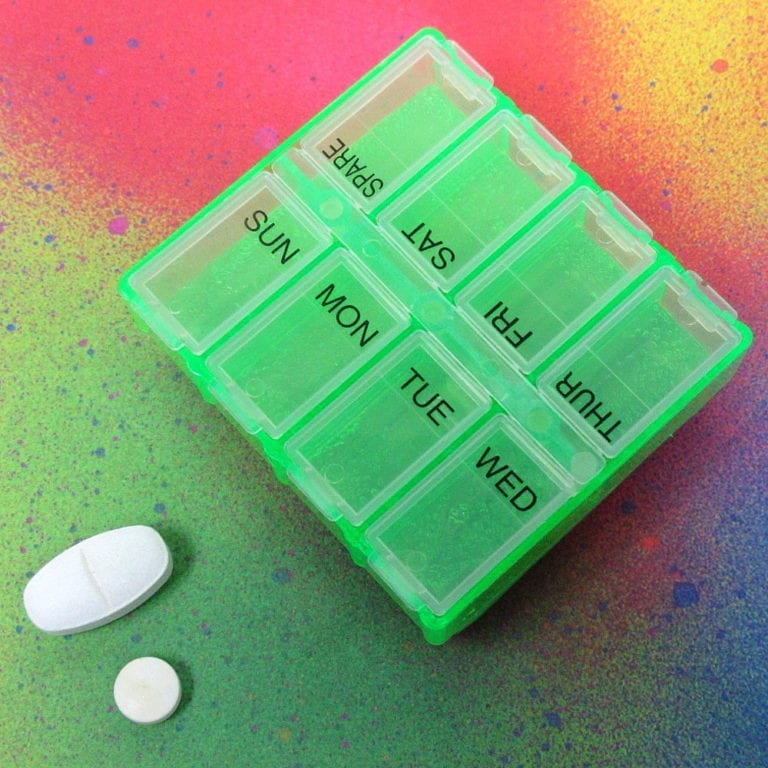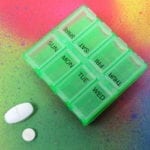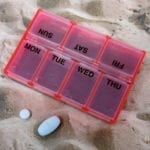 When I get a better handle on the colors available in each of these new base box types, I'll  add custom pillbox options for them to my website.
I'll still be using most of the 16 base box types I've used in previous creations, but a few colors/configurations have been discontinued by their manufacturer. I am most sad about the discontinuation of the large septagon pillbox. Fortunately, I have several of these base boxes in inventory, so I'll be making more of these until I've used up my supply. If you want a custom large septagon pillbox, it would be wise to get your order in soon, before there are no more such base boxes available.
I've added all of the pillboxes shown above to my website this week, so hurry if you want one or more for yourself or for gifting. I expect them to be snapped up quickly! Do keep in mind that these creations also make lovely jewelry cases for travel or your boudoir.  Let me know what you think of these new creations or base boxes by leaving a comment on this post.