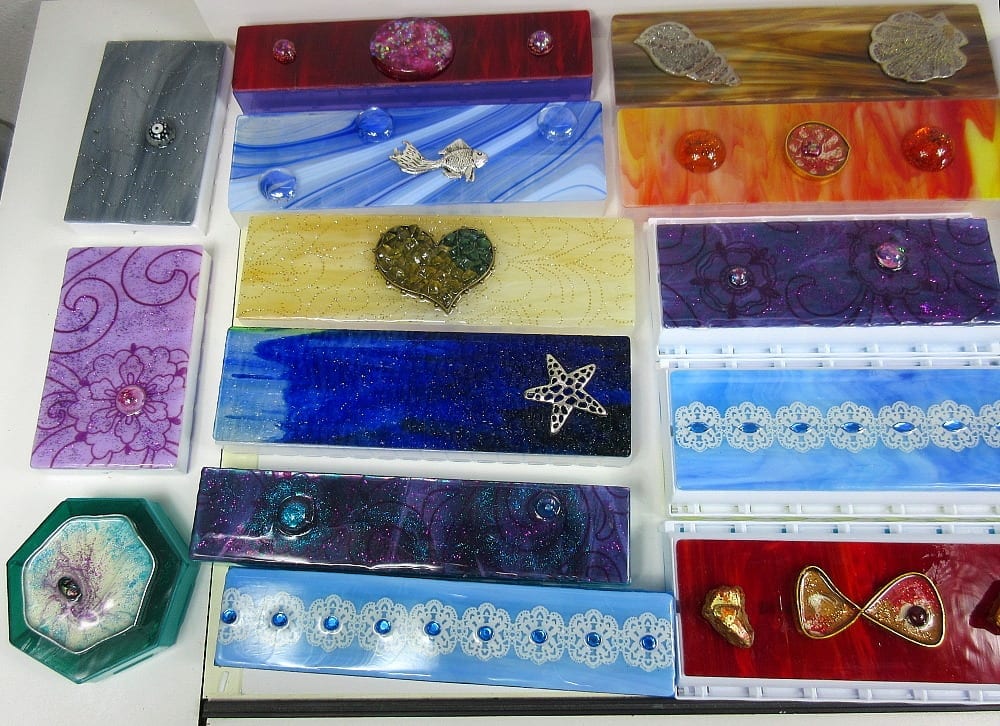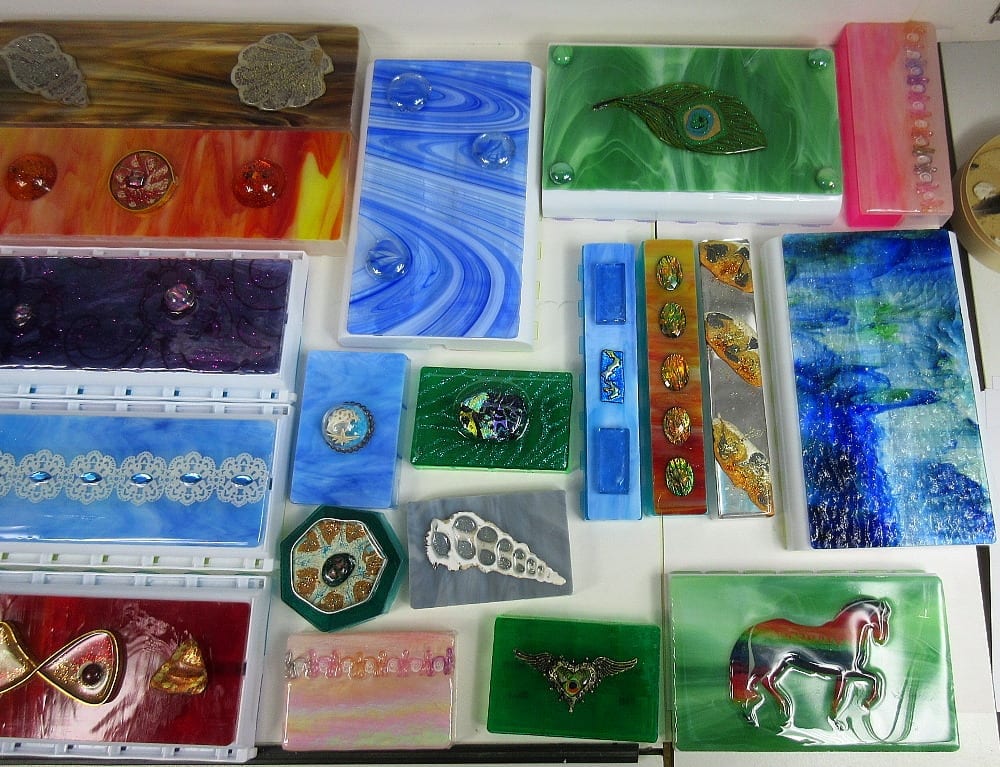 For the past month or two, I have been working on a huge batch of 28 decorative multi-day pillboxes shown above. This batch is now complete and each is available for sale on my website.
Lately, I have made a lot of pillboxes with mirrored tops. For this new batch, I decided to go back to use of stained glass tops, which resulted in a wide variety of embellishment techniques.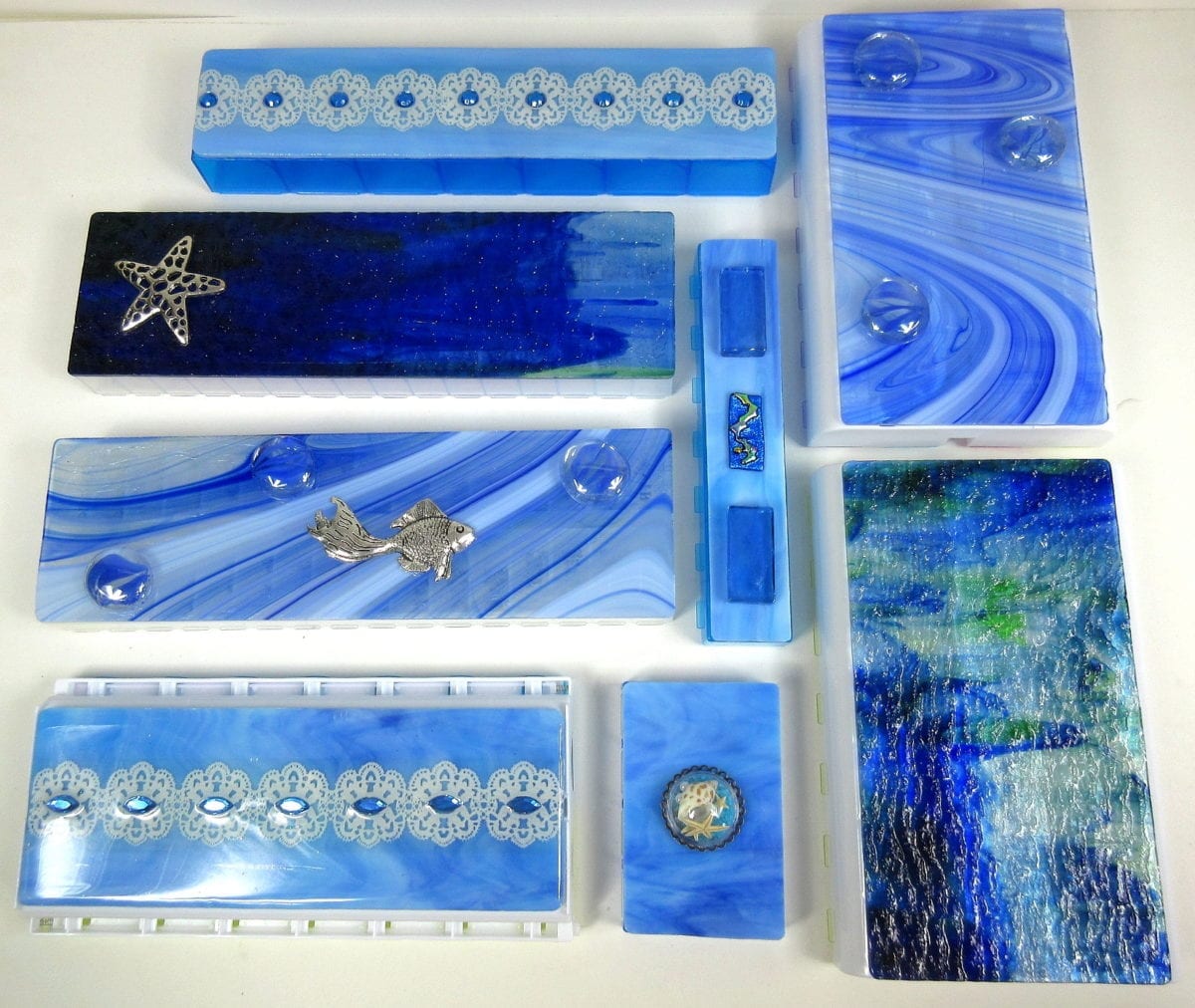 The blue pillboxes above took full advantage of some lovely stained glass, such as the dark blue boxes on the upper left and lower right. Blue cat's eye glass "bubbles" and a swimming fish enhance the effect of moving water on the blue swirled boxes. Iridescent dichroic glass is flanked by rectangular glass cubes on the narrowest vertical box. The same blue stained glass was used on the top pillbox and the two boxes at lower left. The small rectangular box features a glass dome containing free-moving shells, faux pearls, real starfish, and aqua crushed glass. The lace pattern on the top and lower left pillbox is enhanced with blue rhinestones well seated in a protective layer of clear jewelry quality resin.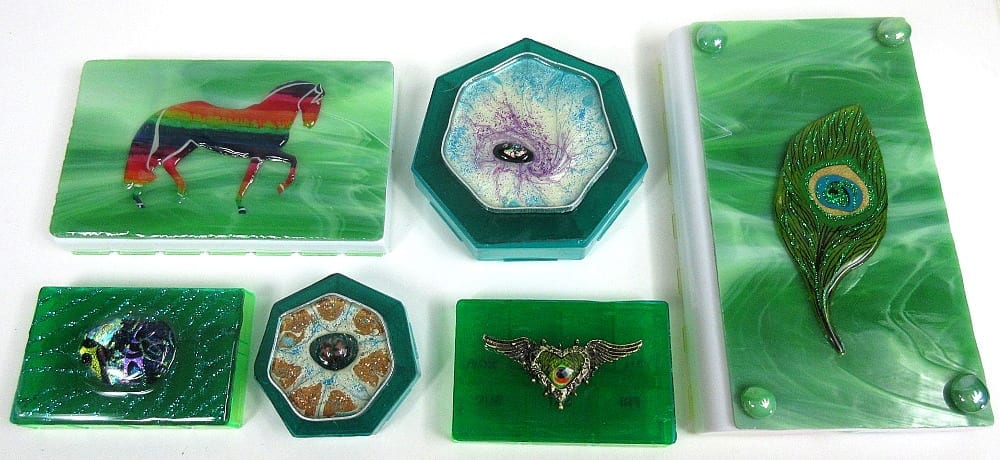 Several of the green pillboxes above take advantage of resin techniques. The horse is a print of one of my Rainbow Herd horses, encased in resin and then embedded in a layer of clear resin that covers the entire box top. The septagonal pillboxes feature my handmade metal tray bezels with clear windows in them, surrounding their dichroic glass cabochons. I've described the lengthy bezel creation process in an earlier post. The peacock feather was created by encasing a glittered fabric peacock feather in resin, then gluing it onto the box shown. The small rectangular pillbox at lower left has a large iridescent dichroic glass cabochon embedded in a layer of jewelry quality resin with green tiger-striped glittered netting also embedded in the resin on transparent green stained glass. The other small rectangle pillbox has the same transparent green stained glass with a steam-punk metal winged heart that has a faceted heart-shaped cabochon with a peacock feather design in its center.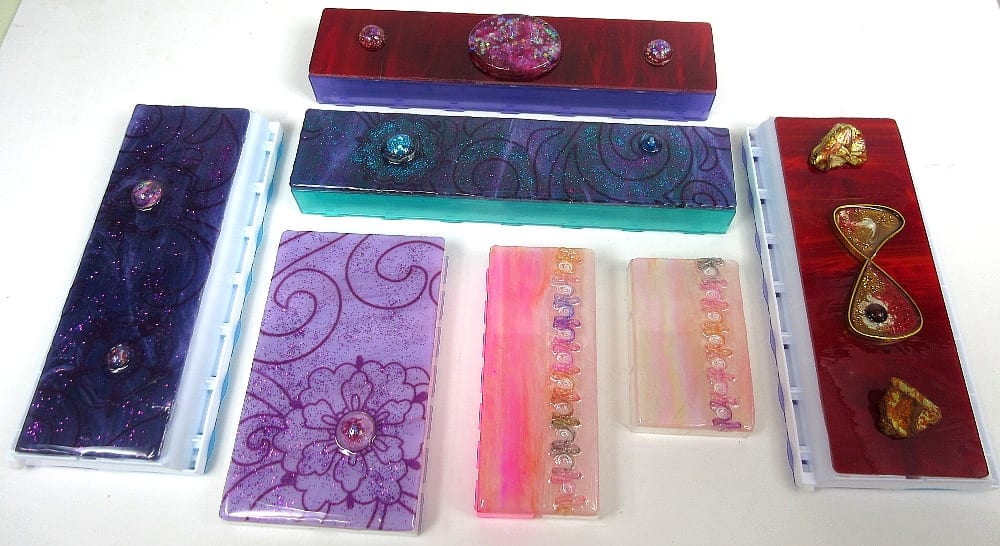 The red, pink, and purple pill organizers above were created using a variety of techniques, all incorporating resin in some way. The two dark purple pillboxes have purple paisley glitter netting embedded in the resin, along with purple and teal glitter and glitter-filled resin cabochons that I made using molds. The pillboxes' stained glass is iridized, so it also has a rainbow effect from some viewing angles. The lighter purple pillbox has a similar composition with purple glitter in the resin and cabochon. The red pillbox on the top features glitter and star filled cabochons that I made. The stained glass on the two light pink pillboxes is iridized with a rainbow effect that is quite magical in hand. They each have the same rainbow colored ribbon embedded in a resin layer covering the entire glass surface. The darker pink pillbox appears darker on the left side because its glass is translucent, and it has a pink 7-day strip base pillbox on that side of the box. The 7-day base pillbox on its other (ribboned) side is transparent clear. The red pill dispenser on the right side of the picture features a metal tray bezel in an infinity shape. It is filed with resin, enamel paints, a dichroic glass cabochon, and red and gold glitter. The tray bezel is flanked by two rocks painted gold and red.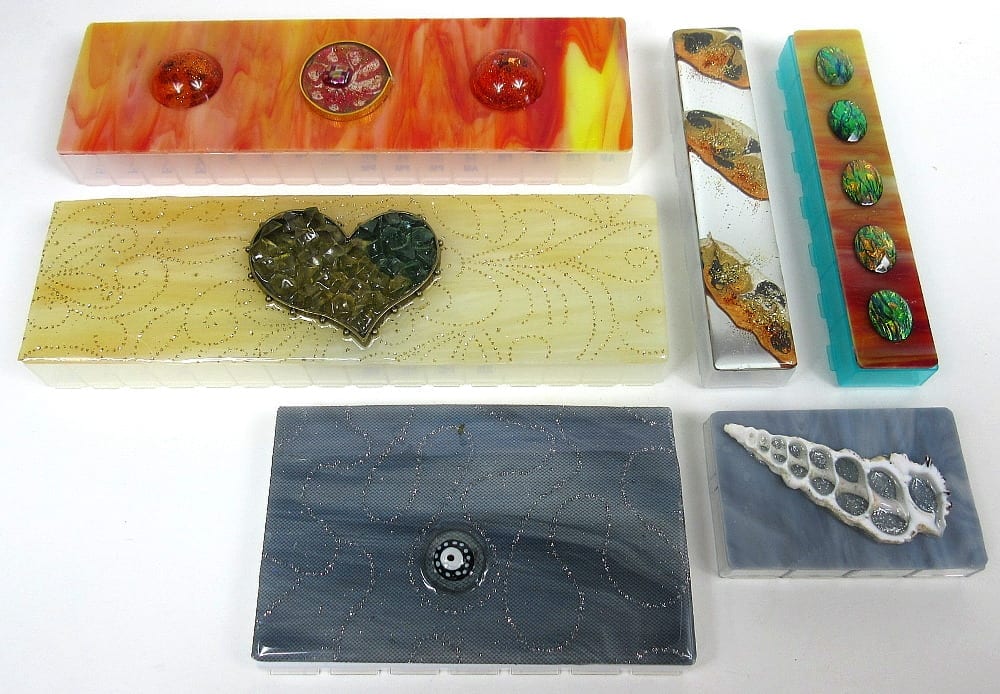 Even more techniques are featured on the neutral colored pillboxes shown above. To embellish the top left box, I created another glittery tray bezel and flanked it with two large glitter-filled round resin cabochons also made by me. The stained glass has lovely swirled orange and yellow colors. The pillbox to its right has a mirrored top with enamel paint and glitter embedded in a layer of clear resin. This pillbox is an example of the many mirrored pillboxes I made prior to this batch. To its right is a box with five faceted faux opals on its russet brown stained glass top. The big studded metal heart bezel on the center pillbox is filled with yellow and teal acrylic nuggets held in place with clear resin. The heart is surrounded by a layer of resin containing gold paisley glitter netting on creamy stained glass. A similar technique was used on the bottom gray pillbox, using silver glitter netting in a resin layer surrounding a single resin cabochon containing a black and white glass bead that looks a little like a car tire. The same gray stained glass was used on the smaller rectangular pillbox at lower right. I filled the seashell slice with silver glittered resin and glued it onto the stained glass pillbox top.
If you are wondering where the dark brown pillbox went with the two seashells on it, its stained glass top unfortunately broke in half during the glue-curing process, so it had to be scrapped.
I'm quite excited about this batch of decorative pillboxes. Please check them out on my website and do leave a comment below to tell me what you think of my creations!