In June 2018, I launched a new UnderCover product line. These one-of-a-kind decorative hollow-bottom cubes easily hide your jewelry, denture storage/cleaning box and supplies, braces, snore guard, retainer, tampons, hemorrhoid cream, extra toilet paper roll, ostomy bags, prescription drugs, small electronics . . . the possibilities are endless! An UnderCover will hide from view whatever will fit under it.
The above photo shows the 30 UnderCovers I created for the product launch and posted for sale on my website. As you can see, I am decorating my UnderCovers with mirrored or stained glass tops and embellishing them using the techniques I use on my decorative multi-dose pillboxes. Each one is a unique work of art!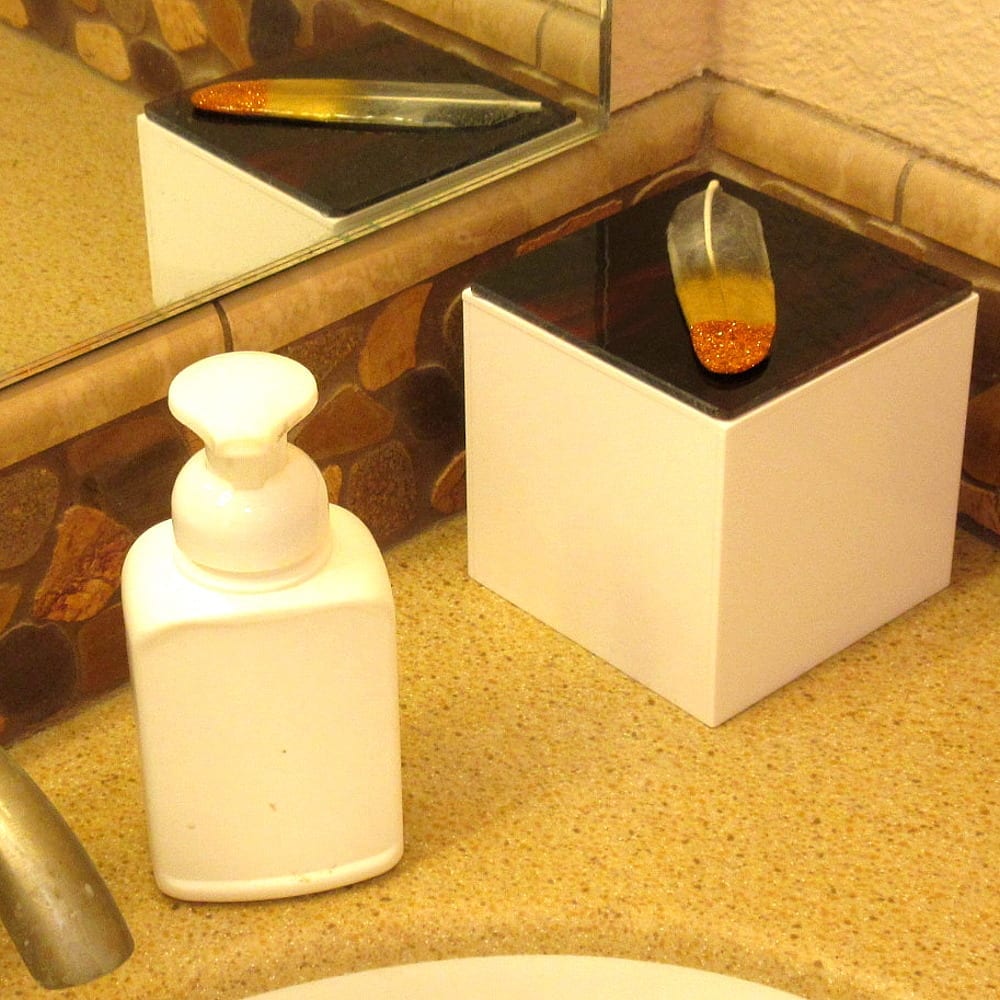 The Brown Gold Feather UnderCover shown above features a real white feather that has had its tip painted gold and dipped in bronze glitter. I coated the whole feather in clear jewelry-quality resin and glued it onto the UnderCover's brown stained glass top.
If you are using your UnderCover to hide a storage/cleaning box for your denture/retainer, there also typically will be room inside the cube for a tube of denture adhesive and packets of denture cleaning tablets or other supplies, so you can keep everything handy, as shown below.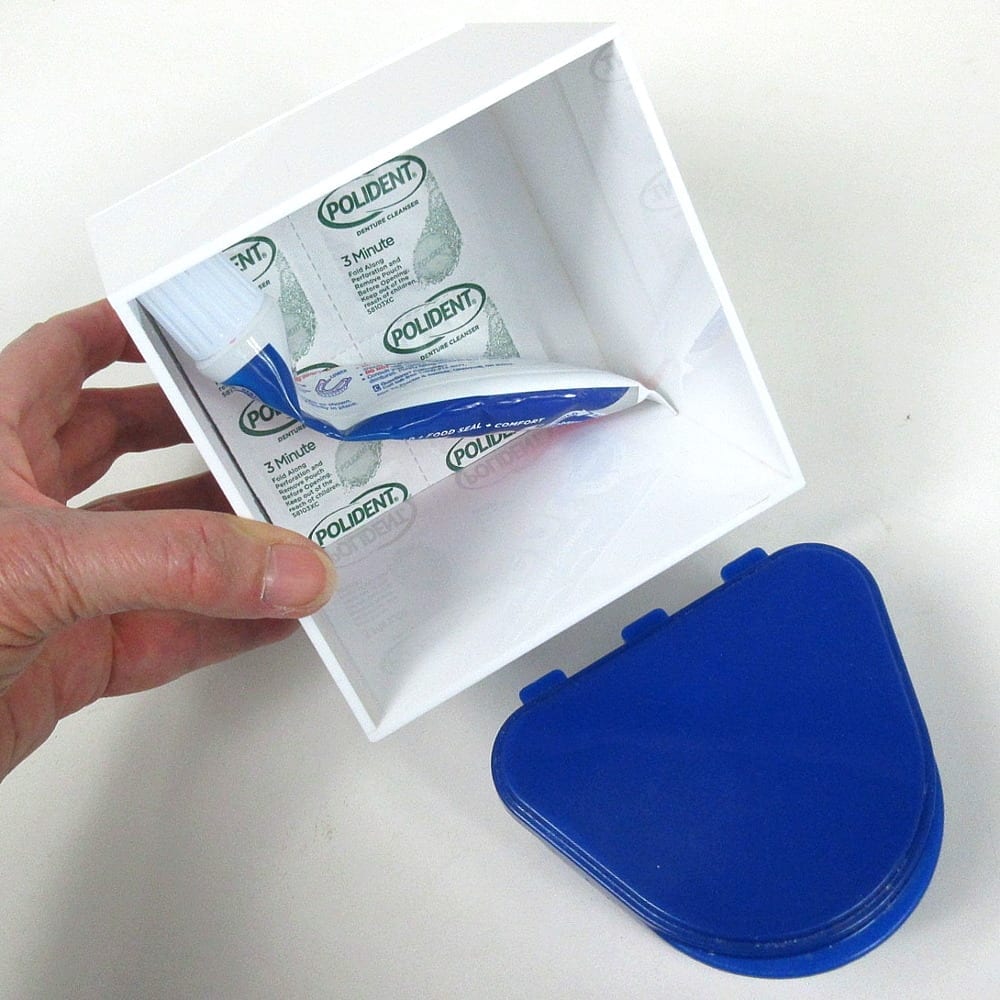 An UnderCover will add beautiful decor to your bathroom, bedside table, or anywhere you want to keep its secret contents handy.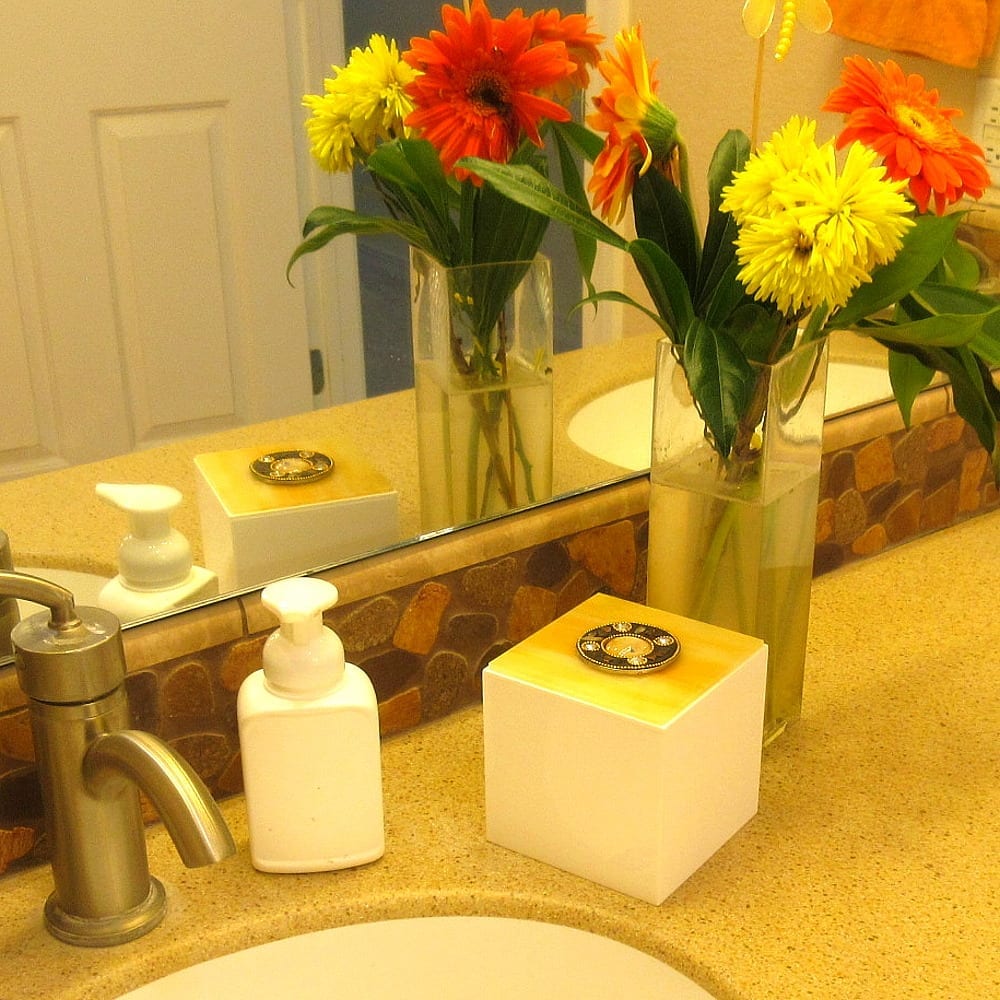 UnderCovers come with either black or white acrylic base boxes. Internally, UnderCovers measure 4.25″ x 4.25″ x 4.25″. Their exterior measurements are 4.5″ x 4.5″ x approximately 4.75″ high, depending on the height of the embellishments. Accessories shown in the product photos, such as denture storage/cleaning containers and cleaning supplies, are not included with an UnderCover purchase.
Custom black and white and UnderCovers also are available, and I would be delighted to make matching sets of custom UnderCovers and multi-dose pillboxes. Just order the two custom items on my website, and I'll contact you to find out what you have in mind. I love creating custom products! I can use either my typical embellishment methods or embed photos and/or text in resin on a pillbox or UnderCover. The possibilities are limitless!
Creative minds will find many uses for this exciting new product. Some flat-topped UnderCovers could even be used as soap dishes or water-glass holders.  Check out this blog post to see many suggested uses for UnderCovers and to enter my contest for the most creative/useful thing an UnderCover could hide. You could win an UnderCover! To see the complete product line or to purchase an UnderCover, click here.
Shown below are the blue UnderCovers I created for the product launch and posted on my website.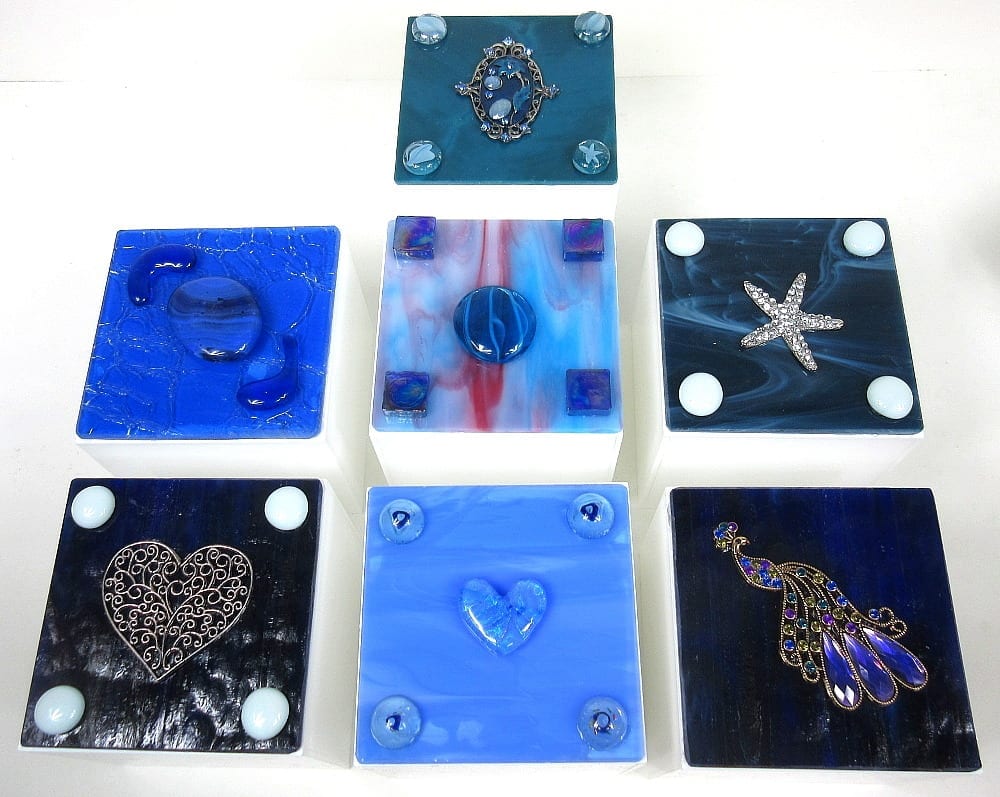 Purple and pink UnderCovers are shown below.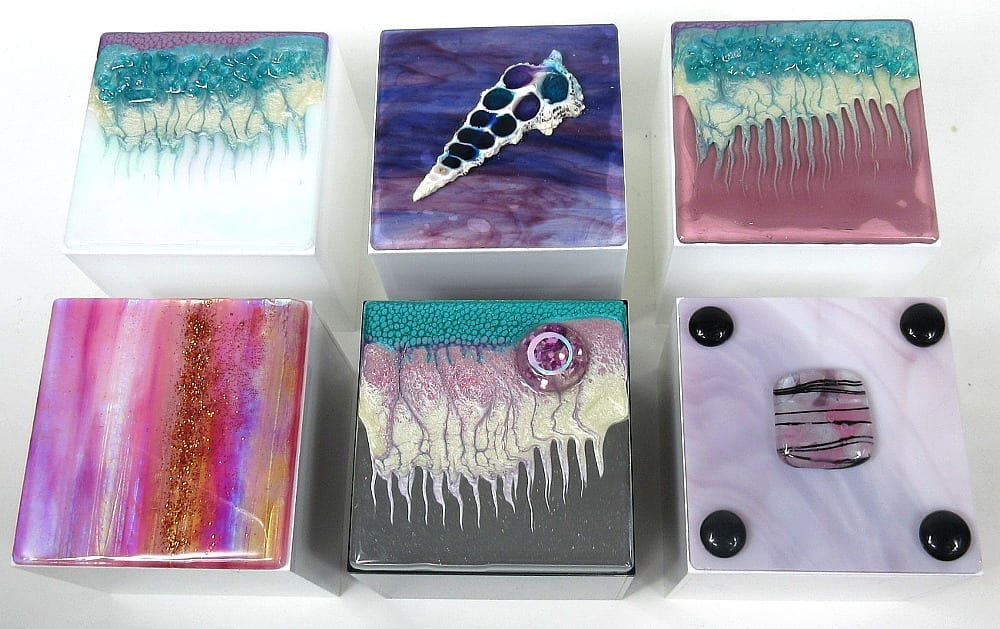 Green UnderCovers are shown below.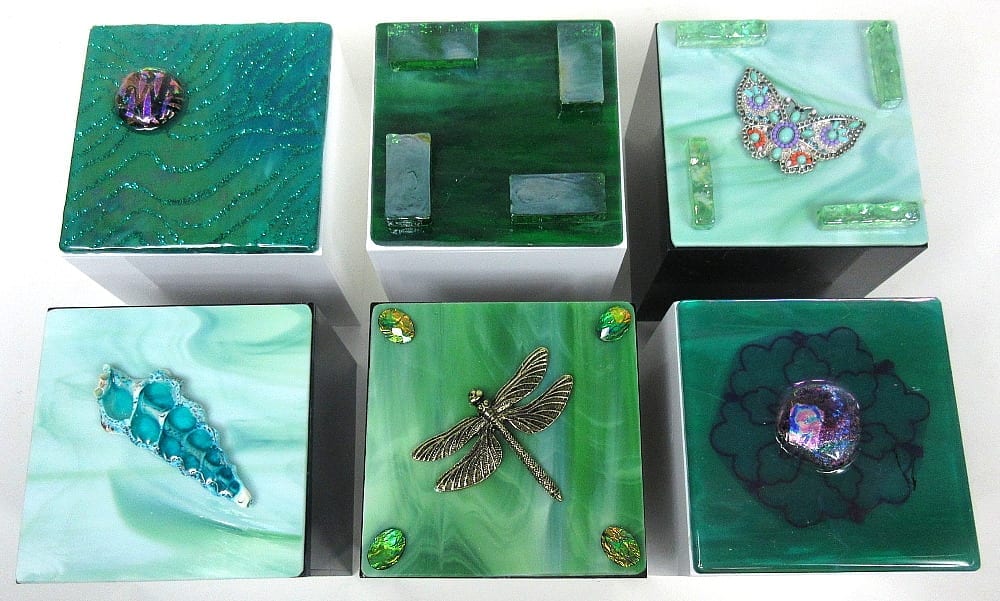 Yellow and brown UnderCovers are shown below.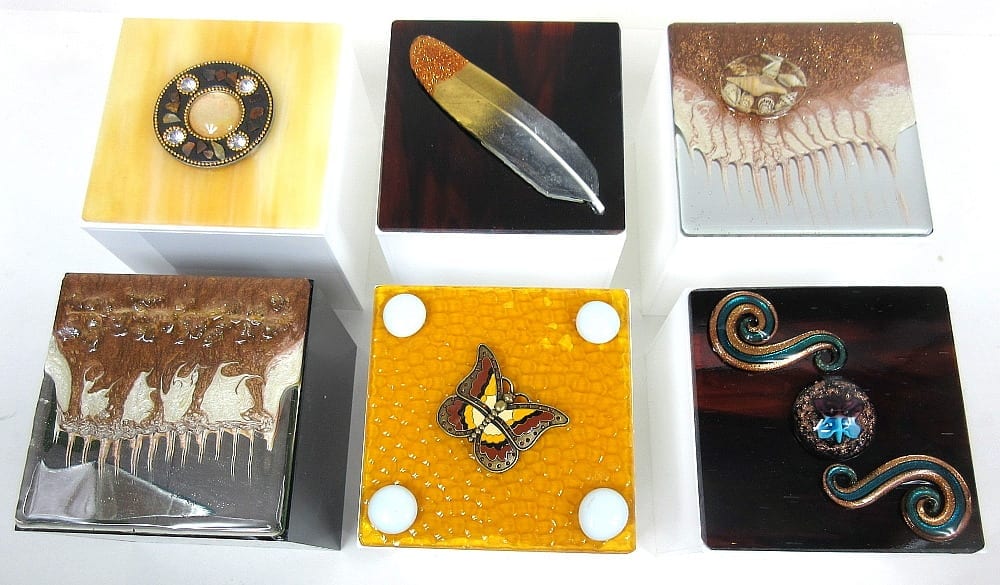 Neutral colored UnderCovers are shown below.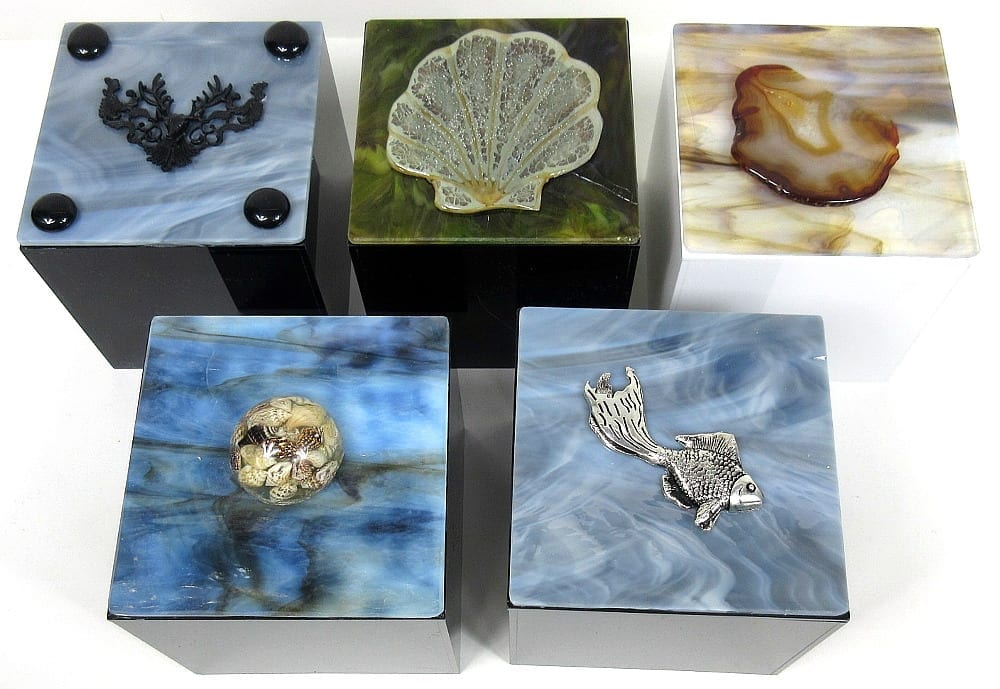 I don't do social media, so I would greatly appreciate your clicking the "Share This" button below to help spread the word about my UnderCovers. Here is a product category link for you to post or add to an email: //KristiLynGlass.com/undercovers. I would also love to have you comment on this blog post. What do you think of this new product? What uses are you already imagining for it?