My big booth at the Lamoille Nevada Harvest Festival Oct. 5, 2019, was a whopping success! I brought my full inventory of decorative pill organizers, Protestant prayer beads, and UnderCovers (secret storage cubes), local area photo magnets, and fish bowl necklaces. I made many sales to a plethora of happy customers.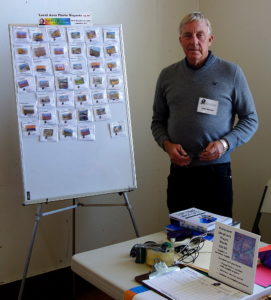 Traffic was steady all day, and I  was very fortunate to have Jerry Keller's excellent help with sales and credit card orders. The picture of Jerry at left shows how many local area photo magnets were unsold at the end of the day. Magnets completely covered that white board when the event started.
Selling Stories
Attendees would typically hold back and eye my pillboxes and UnderCovers askance until we picked one up, turned it over, and showed them the products' undersides. What they thought were merely "pretty boxes" were actually extremely useful pill organizers or secret storage cubes! They could beautifully and handily hide, respectively, not only pills, but a wide variety of valuables or unmentionables. When they realized this, attendees' faces would immediate light up with an "Aha! moment." They would then eagerly step forward to decide which of my creations would be perfect for a gift or to meet their own needs. It is always a delight when that happens!
I also enjoyed telling people about my Protestant prayer beads. When I explained how they might use them to organize their prayer time into prayers of praise, thanks, forgiveness, and intercession, many stepped forward to choose a set. I also joked that their prayers could begin and end before they fell asleep.
My new fish bowl necklaces were also for sale at my booth. They were a big hit with kids and adults alike. More of these are available at the NE Nevada Museum gift shop.
Lots of Traffic
The weather was perfect. The crowd was huge due to that day's co-location of the monthly Lamoille Farmer's Market, the presence of a wedding reception in Lamoille Grove, and the running of Lamoille's annual Man-Mule Race. The latter brought many participating walkers, runners, bike riders, and horseback riders to our tiny town.
The Lamoille Harvest Festival at the Rancher's Center is an annual fundraiser for the Lamoille Community Presbyterian Church. In addition to handmade art and craft booths, the event features live music, a petting zoo, and delicious food. Many thanks to the church for its hard work putting on this event. A good–and profitable–time was had by all this year!