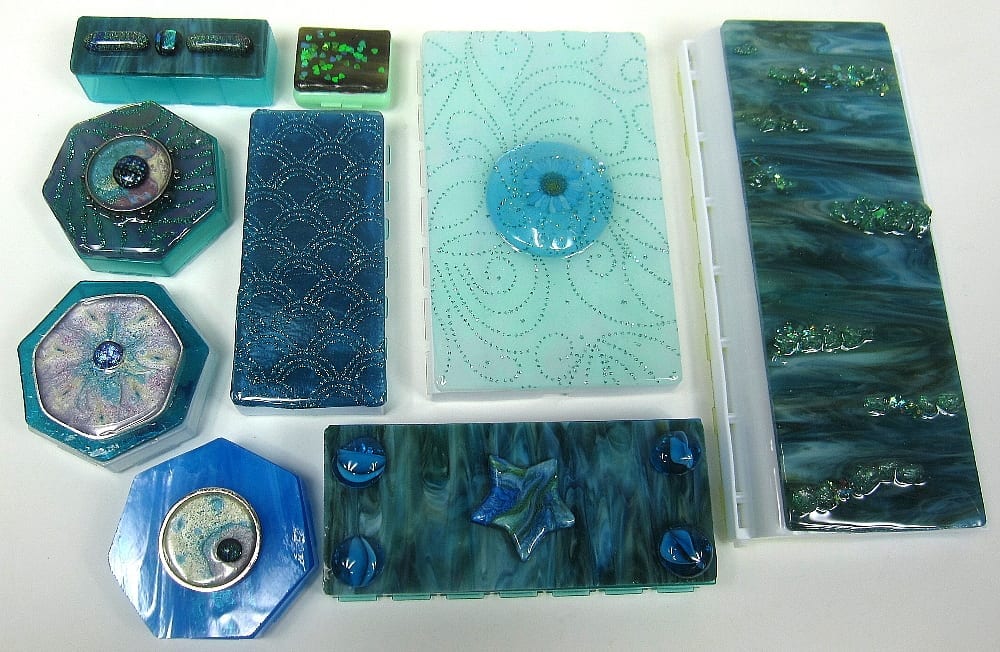 I've been working for the past month or so on a batch of 25 new decorative multi-dose pillboxes, some of which are shown above. I used a variety of techniques on these boxes, including some totally new ones. All of these pill boxes are now available for sale on my website.
One new technique is shown on the right-hand box in the picture above. I added glittered crushed glass "shoals" on its stained glass to make it look like a meandering stream. The entire surface of the glass has been covered with a layer of jewelry quality clear resin for a good hand feel and to keep everything in place. Another piece of the same stained glass was used on the bottom center pillbox, which sports blue cat's eye glass gems and a matching UTEEite star that has a resin coating on top for durability. I made the star out of ultra thick embossing enamel; hence its UTEEite name.
Three of the boxes in the center of the above picture feature glitter-patterned netting embedded in resin. The largest of these has a real blue daisy embedded in its transparent blue acrylic cabochon. The three small septagon pillboxes on the left feature various types of metal bezels containing Pebeo Fantasy enamel paints, dichroic glass cabochons, and glitter-filled resin. The top septagon also has aqua tiger-striped glitter netting embedded in the resin layer surrounding the bezel. Its stained glass top is also iridized for a mirrored rainbow effect. Quite a dazzler! The oblong pillbox in the upper left corner of the picture features iridescent dichroic glass cabochons in a Morse code da-di-da layout. The little green 1-dose box has iridescent green hearts floating in a resin layer on its brown stained glass top.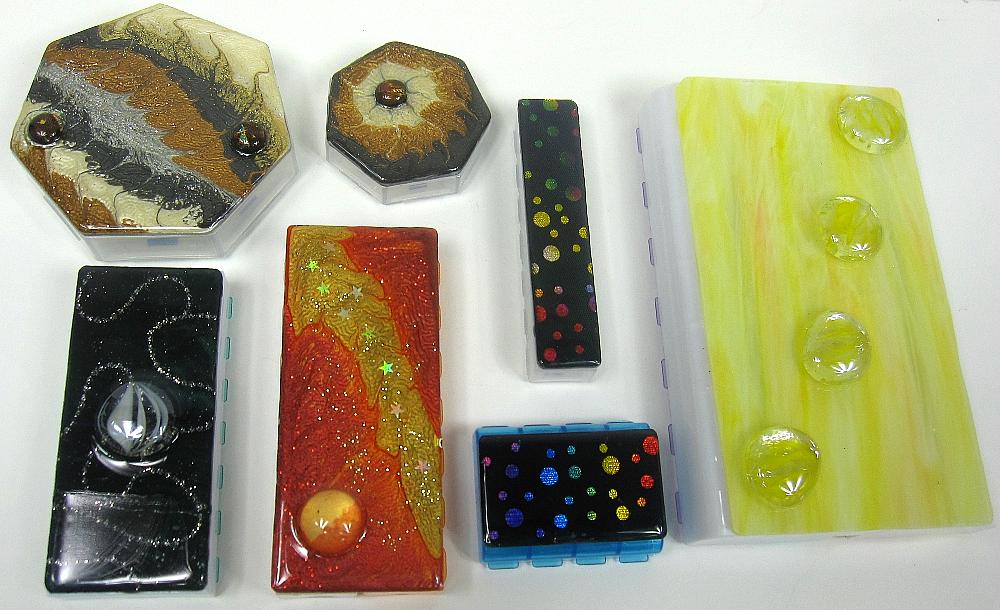 The two brown septagons and center red multi-dose pillbox in the picture above also feature the delightful Pebeo Fantasy enamels I've been working with recently. I've added dichroic and enameled glass cabochons, iridescent stars, and complementary colored glitter in the protective resin layers on these boxes. The three mostly black boxes above have decorative netting embedded in a resin layer on their stained glass tops. The larger of these three boxes has a white cat's eye glass cabochon. The polka dot boxes sport iridescent rainbow-colored spots. The box on the right is a large 28-dose box with a beautiful striated yellow stained glass top and four large yellow cat's eye cabochons.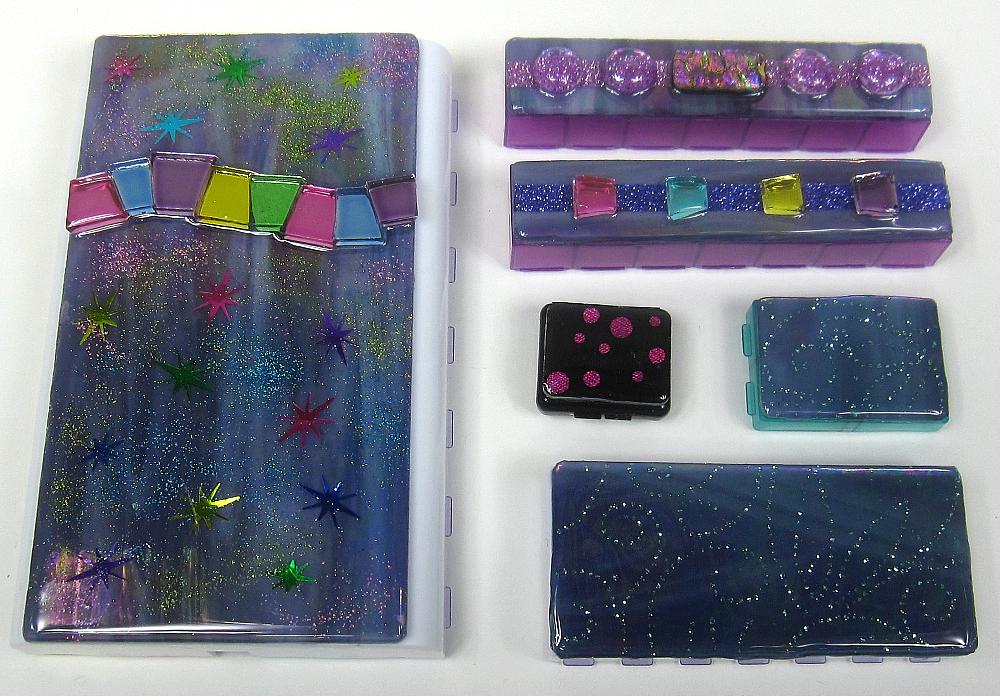 All but the little pink dotted box in the above picture have mirrored iridescent rainbow stained glass tops, which makes them dazzling in hand and especially in the sunlight. The mod pillbox on the left has a ribbon of mirrored glass tiles, fireworks spangles, and glitter in matching colors, all embedded in clear resin. In fact, all the boxes in the above picture have protective top layers of clear resin. The box shown top right has a beautiful iridescent pink and purple dichroic glass oblong cabocon flanked by four pale purple glass gems. These all sit on a purple glittered ribbon. The box below this matches the large mod-design box. The two boxes shown lower right have aqua paisley glitter netting embedded in their resin layers on iridescent purple stained glass. Their slim profile makes them great little travel pillboxes or jewelry cases. The little black box in the center of the photo has iridescent pink-dotted netting embedded in resin on its black stained glass top.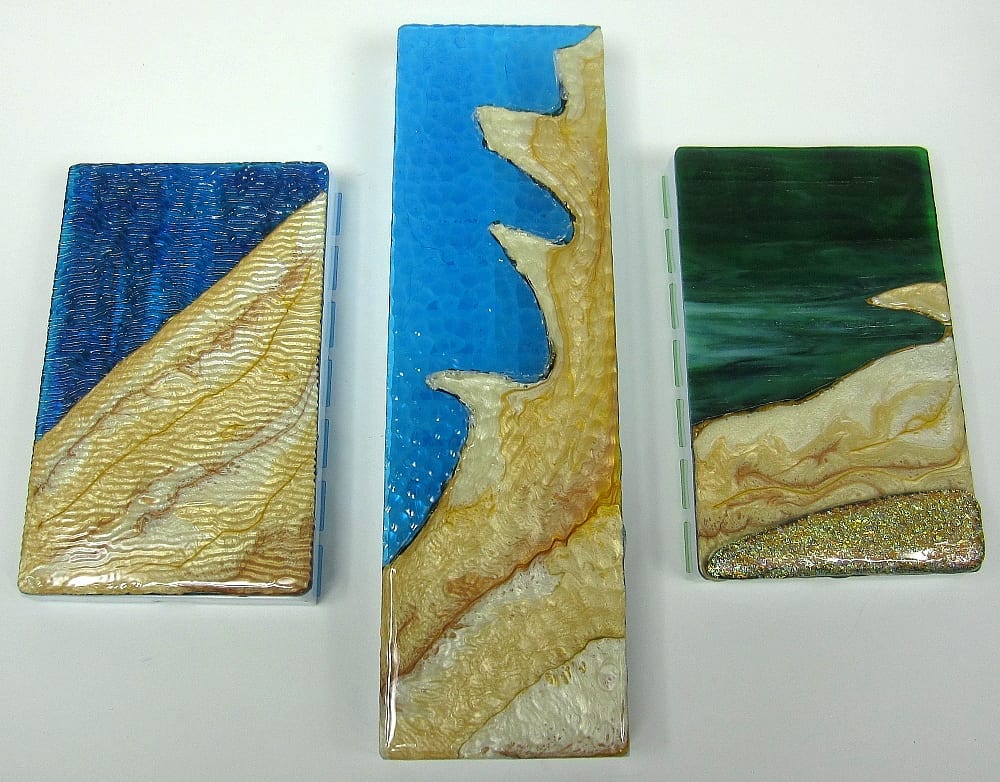 The three pillboxes above were experiments with adding enamel/resin layers to portions of their textured stained glass tops. The definite challenge was to keep the resin from flowing over onto the bare stained glass areas. I'll have to experiment further to perfect this technique! I was pleased that the texture of the glass was reflected in the enamel layers, though the resin layer on top provides a contrasting smoooth surface. The smaller two boxes are medium 28-dose pillboxes; the large box in the center is a 32-dose pillbox. The right-hand box has a lovely slab of dichroic glass at the forefront, adding depth to its beach scene.
All of these boxes may be turned over to access their individual hinged-lid compartments. The septagon 7-dose boxes have matching dichroic glass cabochons embedded in their central wells for an added surprise when these boxes are turned over for use.
For details or to purchase any of these pillboxes, hurry over to my website. They make great gifts!
Please leave a comment on my blog or contact me to let me know what you think of these new techniques and pillboxes. If a particular technique interests you, I'd be happy to incorporate it on a custom pillbox configured to meet your pill-taking or jewelry case needs.