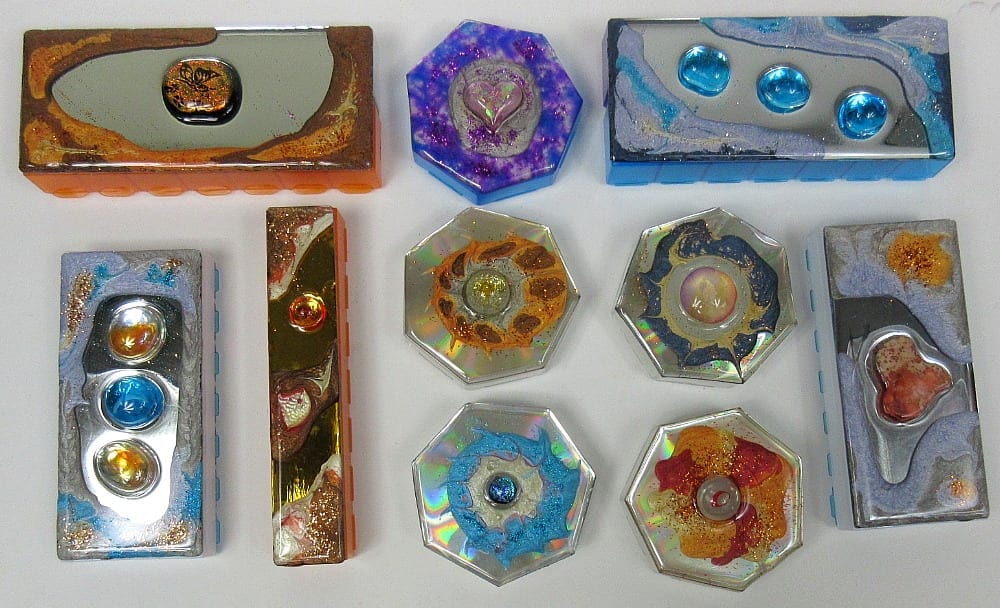 Inspired by the lovely effects of enamel and glitter on the mirrored tops of some 7-day strip pillboxes I created last December (top picture above), I decided to explore this technique with larger pillboxes, as shown in the photo above, which also includes the gold and red 7-day strip pillbox shown in the top picture. The orange pillboxes in the picture above also feature champagne-tinted resin, for more of a golden glow. The cost of tinted mirrored glass, as shown on the 7-day strip pillbox and a few others in the top picture, is too high for purchase in larger sizes for this product, so I will be experimenting more with using tinted resin over plain mirrored glass.
As shown on the small septagon pillboxes above, I have also begun recycling old CDs and DVDs for use as pillbox tops. I'm calling these Aurora pillboxes, in honor of the beautiful rainbow aurora borealis effect of these disks. Successfully cutting the disks to this shape posed quite a challenge that I will explain in detail in a future blog post. One such attempt resulted in the beautiful mirrored foil layer peeling entirely away from its plastic base! Seeing this as a happy accident, I transformed the resultant fully transparent septagon with alcohol inks, resin, glitter, and enamel to create the Purple Heart pillbox shown below. The blue base box shows through parts of the pillbox top to add another dimension to the box's colors.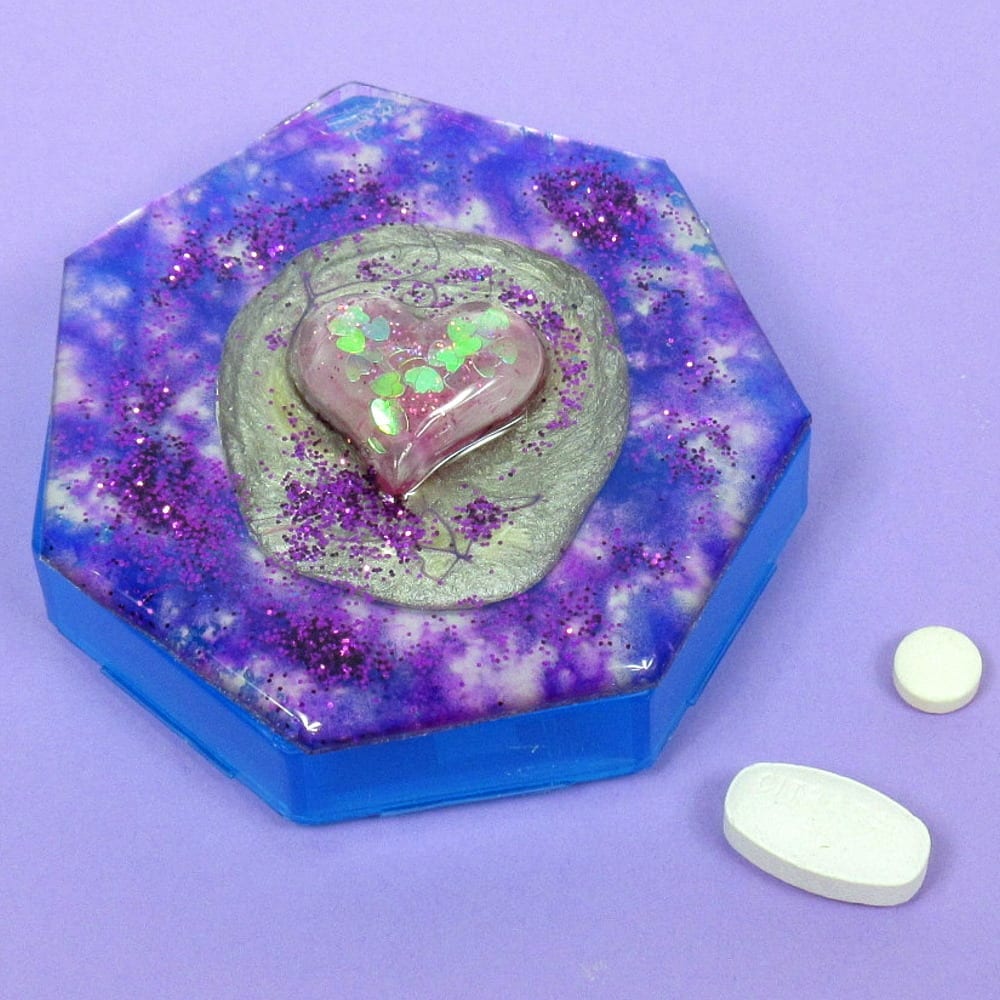 The hole in the center of each disk presented both challenges and opportunities.  On some of the Aurora pillbox tops, such as the Golden Aurora Sun pillbox below, I covered the hole with a cabochon and used resin to make it appear to float in mid-air. This beautiful box was the first of the Aurora boxes to sell.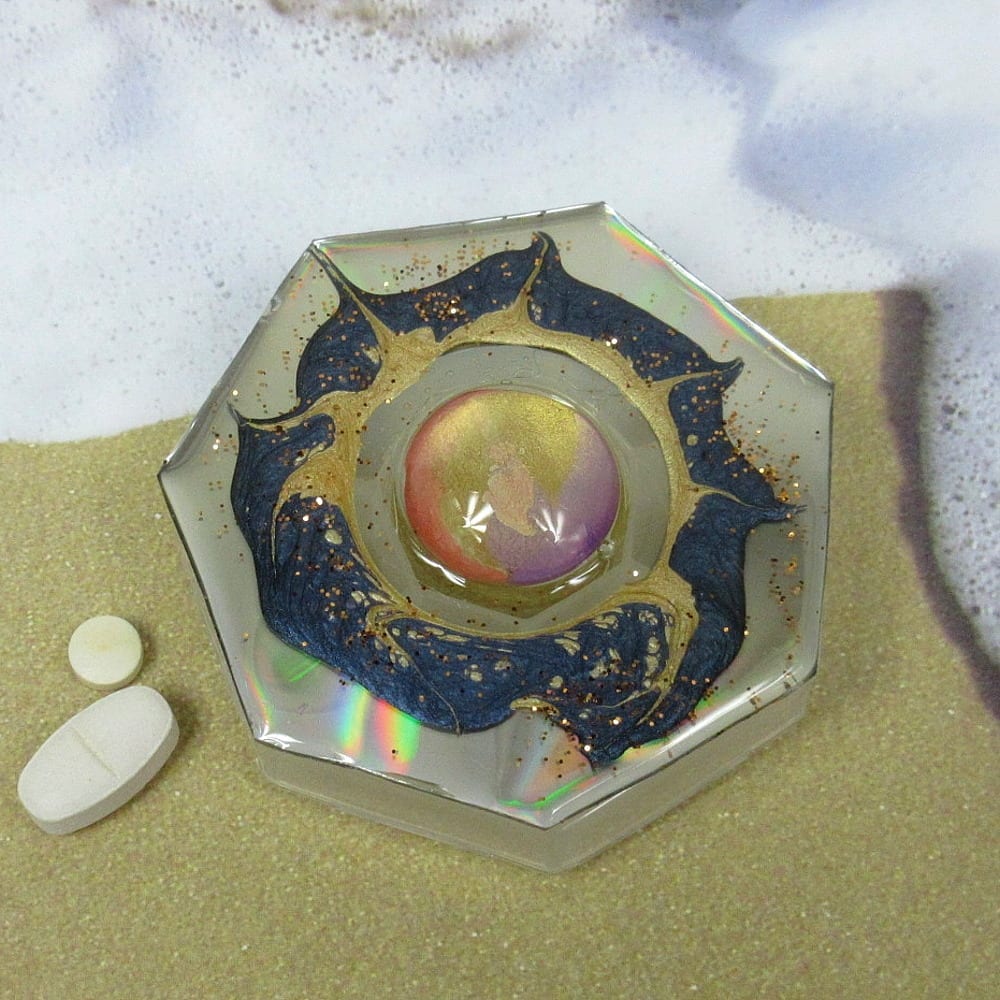 On the Blue Aurora Pillbox below, I positioned a smaller cabochon in the center of the larger hole, and suspended it there in clear resin.
Then I turned the box over, glued another dichroic glass cabochon behind the top side's cabochon, and added another layer of resin to the box's central well. This picture also shows the non-aurora side of the CD which I painted silver, so its lettering and graphics would not show through the bottom of the pillbox's compartments.
Many of these pill organizers have already sold, but you can check out what's available on my website. I'll be making more like these soon. Please leave a comment on this post to let me know what you think of these new techniques!