Eight new Protestant chaplet bracelets and two new sets of prayer beads are now available on my website. My last batch of chaplets sold so well, I decided to create some more.
As usual, I am pleased to offer unusual combinations of components, including several with roller ball Cruciform beads. I love the way these feel in hand.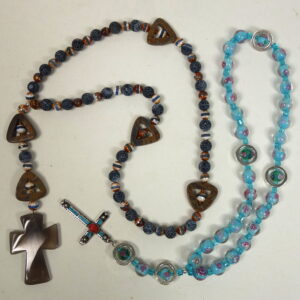 The Crackle Agate Protestant Prayer Bead Necklace on the left above features a variety of agate components. The Week beads are gray agates with a crackled finish. The unique spacer beads are brown and white with unusual translucent gray centers. Each has a band shaved away around its center to reveal its gray interior. These spacer beads also become roller balls in the centers of the triangular brown stone Cruciform beads. A translucent gray agate cross is the focal point of this dramatic necklace.
The Rosy Blue Protestant Prayer Beads above also have roller ball Cruciform beads. The Week beads are transparent glass with aqua centers with embedded pink rose designs. The roller balls in the Cruciform beads are similar in style, but are smaller faceted glass rondelles. Smooth silver-plated rings contain the faceted roller balls for a tactile treat. The embossed pewter cross has inlaid turquoise stone bars, tiny white stone dots at the cross end points, and a red stone central cabochon. It was a treat to put all these perfectly matching components together, and the set feels delightful in hand.
I loved that set of prayer beads so much, I made a matching Rosy Blue Protestant Chaplet Bracelet.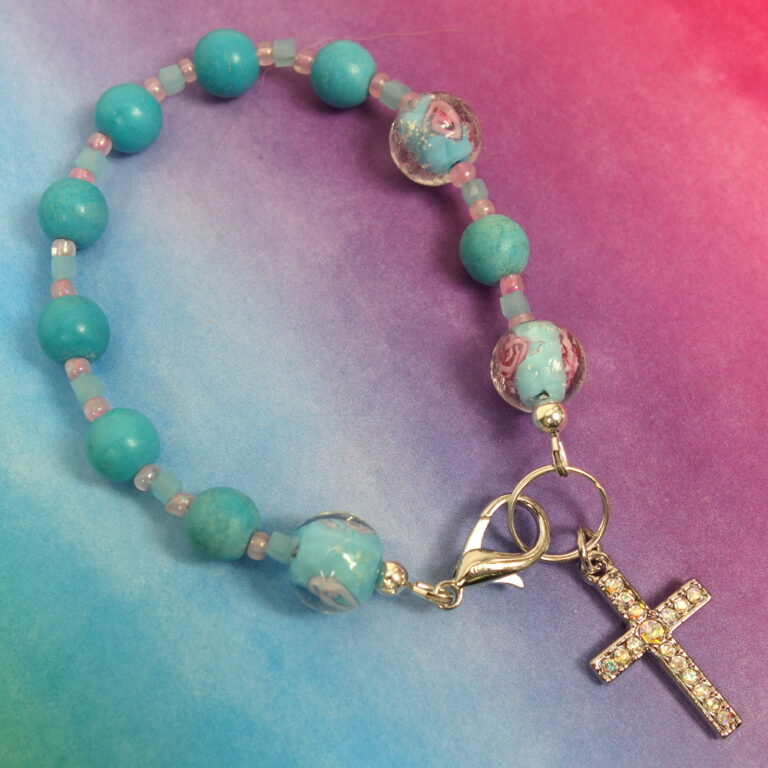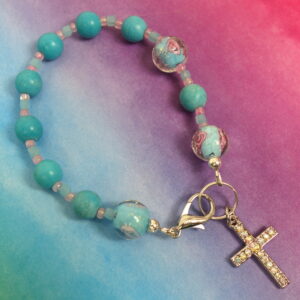 Although the larger set is not long enough to wear as a necklace, this chaplet bracelet will be perfect to attach to a purse or tuck in a pocket to keep your prayer beads handy as a statement of faith or to pray while on the go. It features turquoise Week beads and faceted matching glass cube spacer beads flanked by transparent pink seed beads. The rhinestoned cross sparkles with iridescent pink and blue twinkles.
Other Chaplet Bracelets
Four more of the new Protestant chaplet bracelets also feature natural stone components, including jasper, jade, and quartz.
The Abalone Protestant Chaplet Bracelet includes pearly chunks of abalone shell.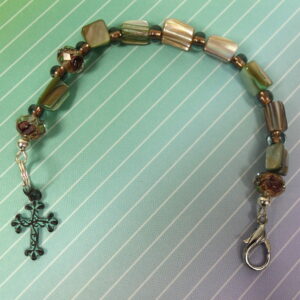 Its unusual faceted glass cruciform beads have black, pink, and pale blue inclusions that pick up the iridescent colors of the shells. The aqua-brushed embossed metal double-sided cross complements the design.
The Red Baby Blue Chaplet Bracelet is a subtle, but interesting, creation.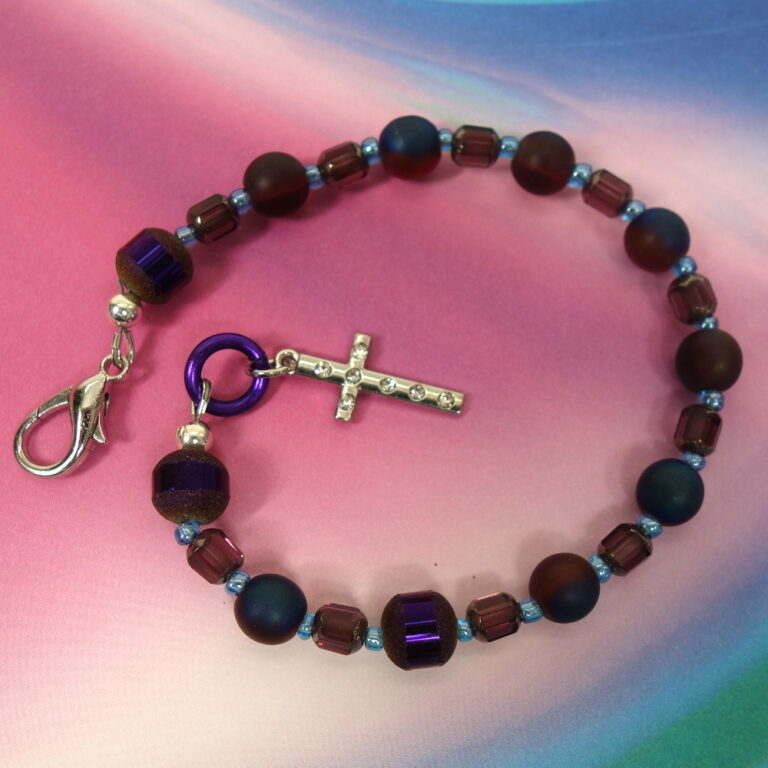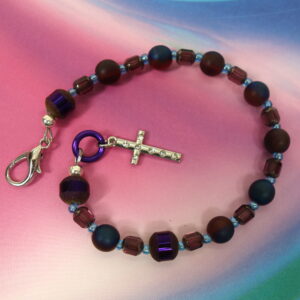 Its cathedral-cut Cruciform beads have metallic purple bands. Its transparent purple spacer beads are also cathedral cut. They are flanked by baby blue seed beads. The translucent round red Week beads are unusual, as they each have a splash of navy blue on one side. So is the overall effect red or purple? You decide. Its rhinestoned petite silver plated cross goes with either color.
Last, for a touch of fun whimsy, I created the Green Flowered Chaplet Bracelet.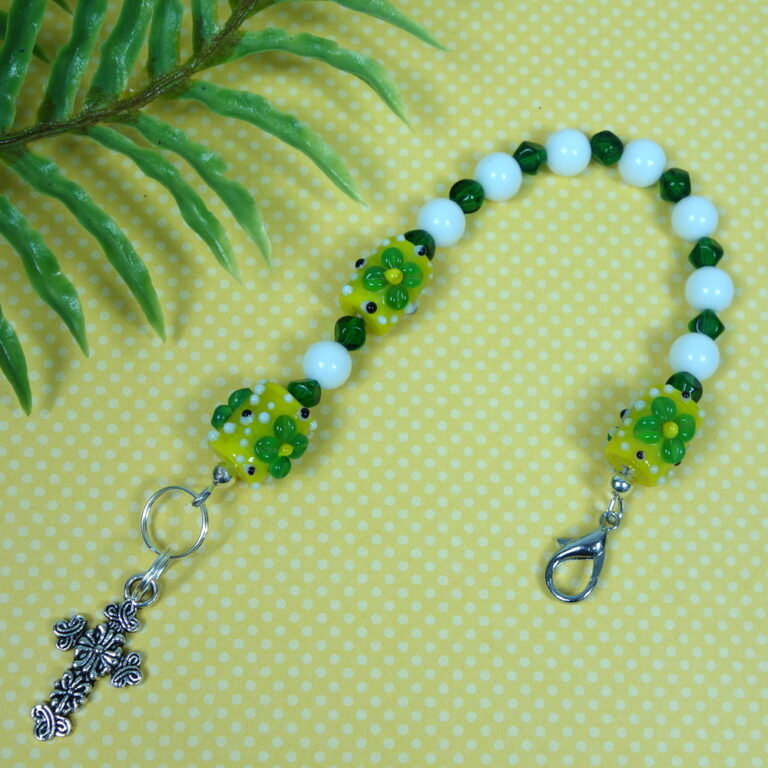 Its cute yellow barrel-shaped Cruciform beads feature lampworked green flowers and white and black raised glass dots. The chaplet's other white and green glass beads pick up those colors, and its flowered embossed pewter cross completes the flower theme. It will definitely perk up a purse strap to keep these prayer beads handy.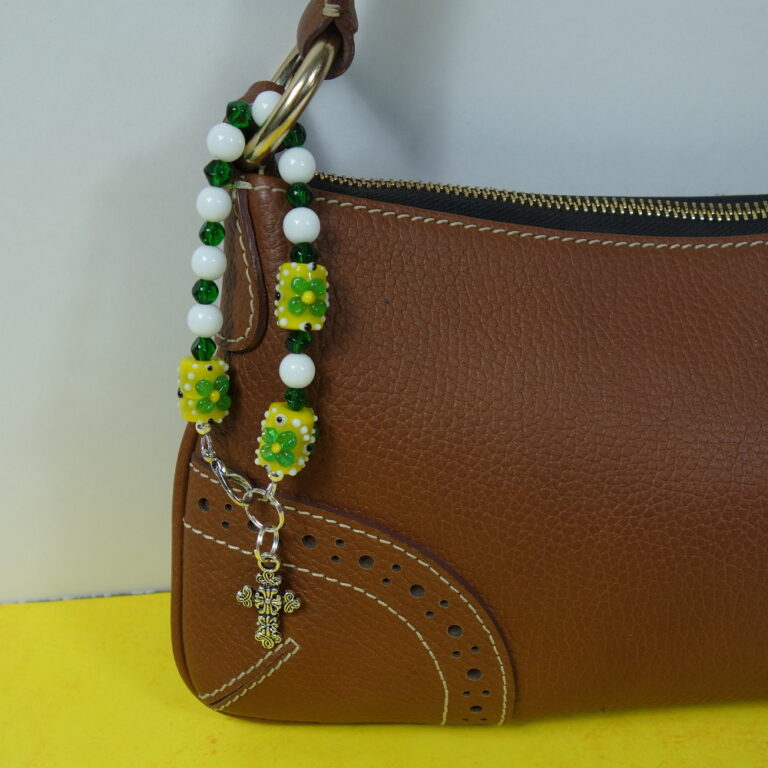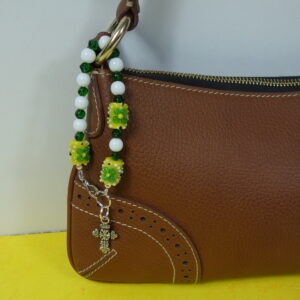 All of these new creations are available for sale on my website. Make one or more of them yours today!