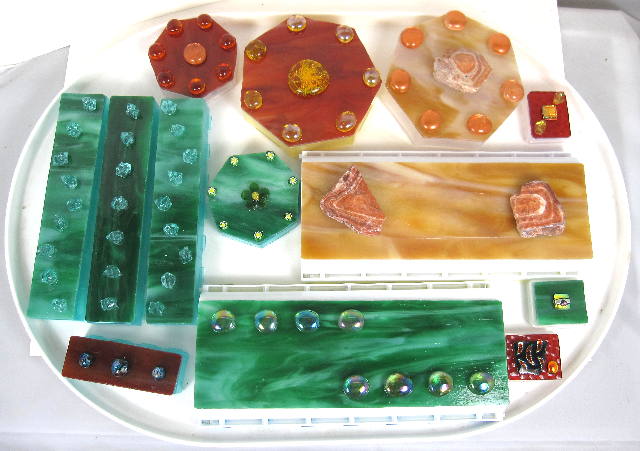 I just completed a batch of eleven new
readymade pillboxes
and posted them for sale on
my website
. A couple of these include my locally found Wonderstone (Rhyolite) stones that I've glazed to enhance their unusual concentric rings.
These include a new "triple set" of large 7-day strip pillboxes that may be used individually for multiple days or as a set for morning, noon, and evening doses. They each have glittery transparent aqua acrylic nuggets on their matching swirled green stained glass tops. I'm excited about this "set" idea, so I may be making more sets in the future. What do you think of the matching pillbox set concept?
Do keep my pillboxes (and other creations) in mind for Christmas gifts. If you don't see what you need on my website, order a custom pillbox. I can make one in a few days that will be perfect for your giftee. These also make terrific earring/jewelry cases for travel or boudoir. Don't forget: I make pillboxes for men, too!