Need something handy, but don't want it in open view? UnderCover secret storage cubes handily hide your valuables or unmentionables under works of art to add beauty to your decor. For example, an UnderCover can discreetly and beautifully hide a spare roll of toilet paper, a cluster of perfume bottles, your denture storage box, or whatever else you want to keep handy, but hidden. Just place a hollow-bottom UnderCover over it, and only you will know what's inside.
My UnderCover inventory needed replenishing, so I recently created the six new UnderCovers shown above and added them for sale on my website.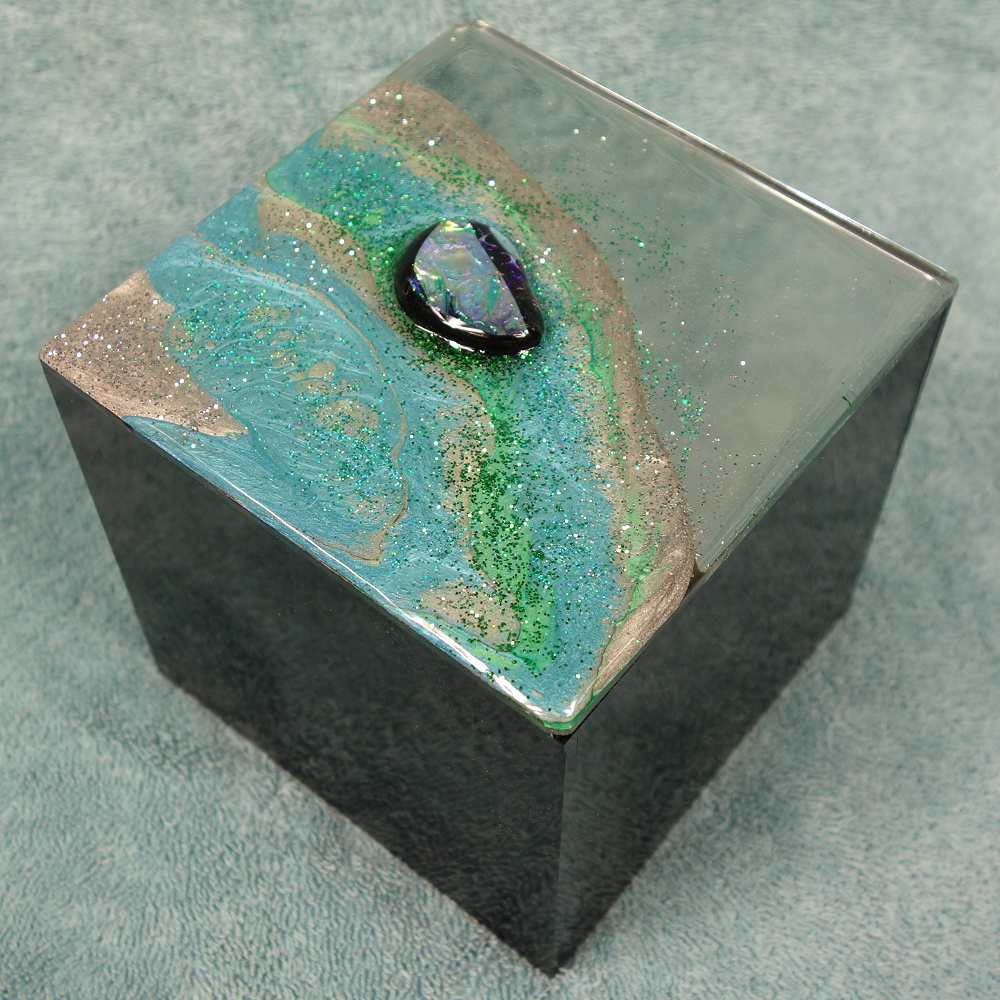 These creations are part of a large batch of UnderCovers and decorative pill organizers, many of which feature my beloved mirrored-top technique. For example, the Aqua Wave Undercover shown below started with a cut glass mirror. I then added a layer of magical aqua, green, and silver enamels, leaving part of the mirror exposed. After that layer cured, I strategically sprinkled some colored glitter on the enameled area. I then added a layer of clear self-doming resin and seated an iridescent dicroic glass cabochon in it for extra bling. Yes, I do love bling! I glued the mirrored creation onto a black acrylic UnderCover base box to complete this work of art that has a hidden agenda.
For two of my new UnderCovers, I used this same technique on smaller squares of mirrored glass. I then glued these to the UnderCovers' swirled blue stained glass tops. Pictured below are the resultant Blue Wave Washed and Cloudy Blue Sky UnderCovers.
Check out these and many other UnderCovers on my website. If you don't see one that meets your needs, I encourage you to order a custom UnderCover. I love working with customers to create UnderCover works of art that harmonize with their decor.