Making each of my Protestant prayer beads unique, beautiful, and special is one of my many goals. Each of my ten new prayer beads achieves that goal. Eight of them are pictured above.
An additional creation, the Pink Flowered Prayer Book Protestant Prayer Bead Necklace, has white Week beads decorated with red, pink, and yellow roses. Each of the silver-plated Cruciform beads features a spinning Swiss cross inside a silver ring. This necklace also has a unique opening prayer book pendant that may contain whatever you wish. It could hold the insert provided or a lock of hair, a special prayer, a picture of a loved one, a cotton pad containing an essential oil . . . the list of possibilities goes on. The magnetic closure keeps the contents safe between the prayer book's glass covers. This necklace quickly sold!
The Aqua White Flowers Protestant Prayer Bead Necklace has two kinds of Cruciform beads. Hand-painted double-sided white oblong glass bar beads grace the prayer loop, while the matching Invitatory and first Cruciform beads contain white shell pieces compressed into a round shape and held together by aqua resin. A white porcelain double-sided puffed heart replaces the traditional cross pendant. It has hand-painted aqua stripes and gold and aqua dots. The squashed white aqua-centered daisy Week beads are acrylic and feel especially nice between finger and thumb. Iridized faceted transparent aqua glass rondelle spacer beads provide a sparkly contrast to the otherwise solid components in this unusual creation. It sold almost instantly after this blog post was published.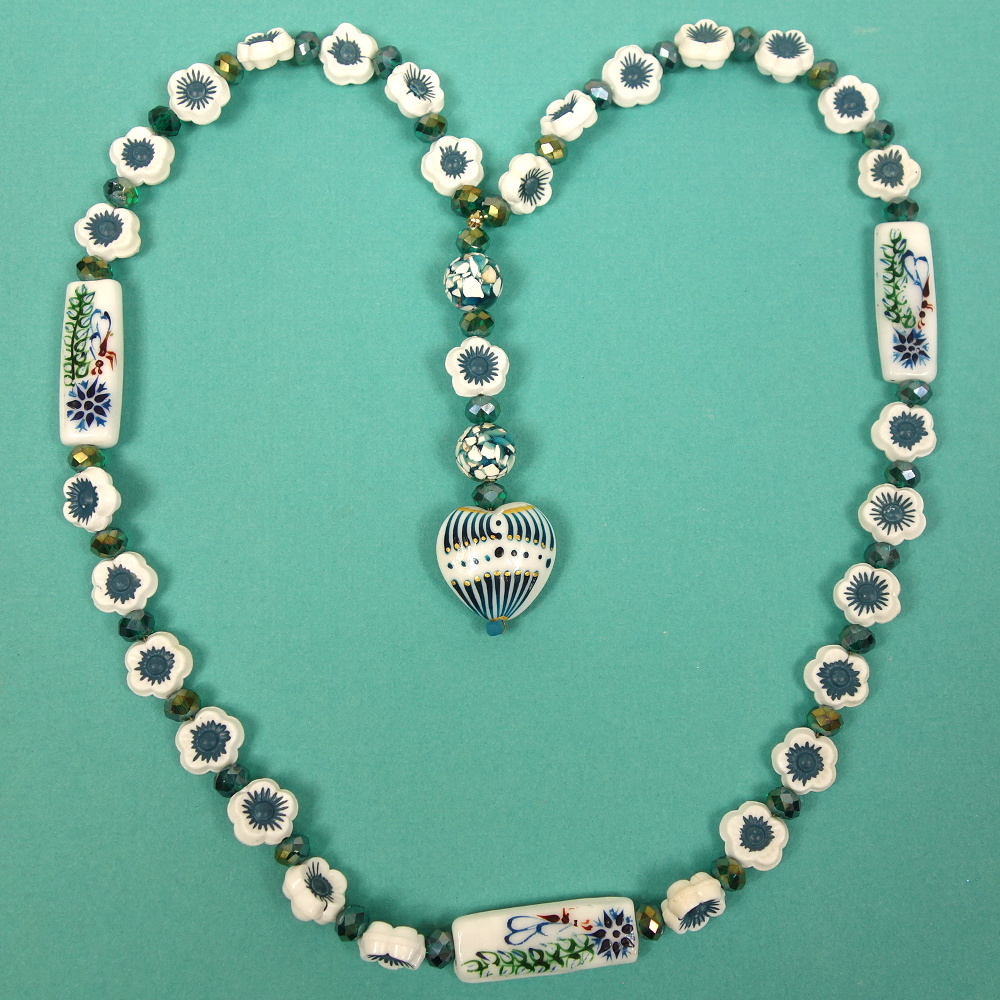 Another creation, not shown in the group picture above, is the Red Ring Protestant Prayer Bead Necklace pictured below. It has unique white glass bead caps flanking its white-splotched red oval Cruciform beads. Its pewter embossed Swiss cross pendant dangles inside a unique silver-plated prayer ring. Stamped into the ring is the prayer "May the road rise to meet you. May the wind be always at your back. May the sun shine warm upon your face. And rains fall soft upon your fields." The ring's twist makes this prayer repeat until infinity.
Another beautiful creation in this group is the Crystal Rainbow Protestant Prayer Bead Necklace  shown below. It is absolutely dazzling in hand, and it features a Betsey Johnson rhinestoned cross. I just love her creations, as they are so glitzy and over the top. The red rhinestone at the bottom of the cross is actually a swinging dangle. The Cruciform beads are faceted clear glass hearts.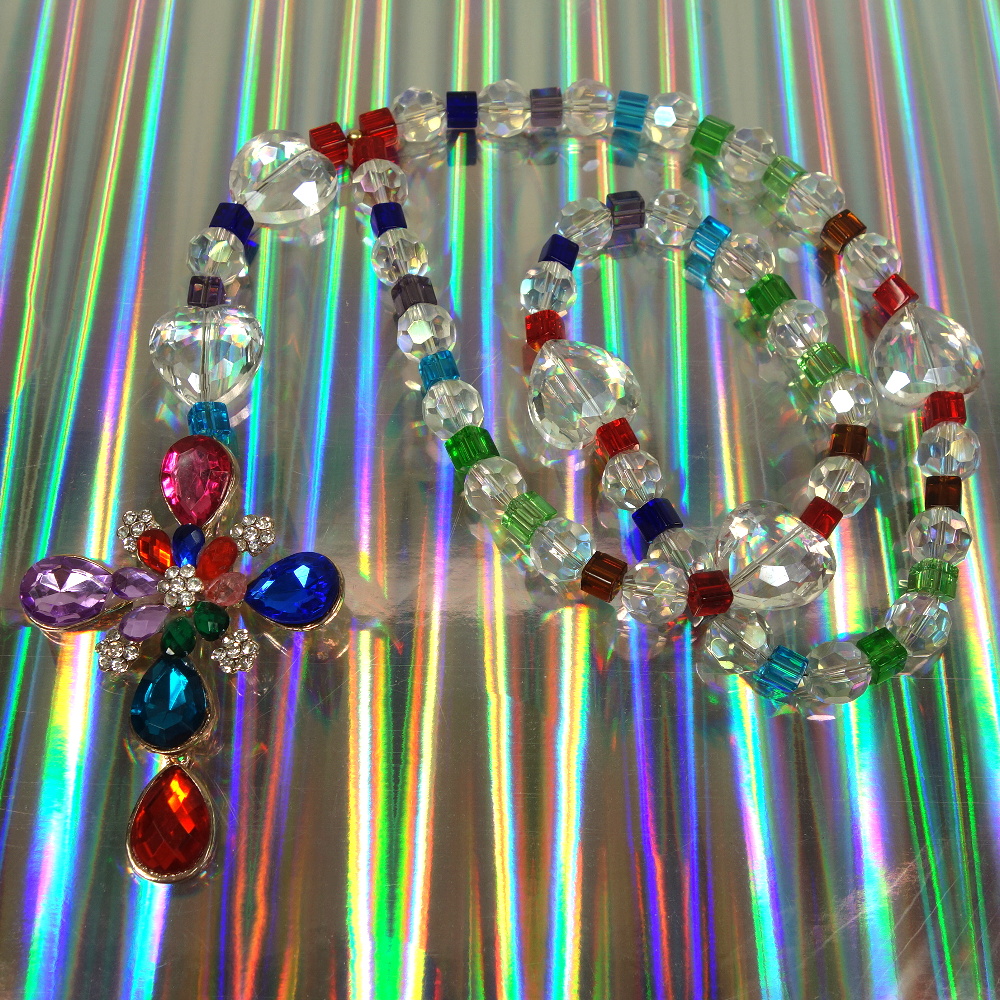 Find details about this batch's unsold Protestant prayer beads (and others) on my website. Each is only $32.00 and includes my 16-page full-color Anglican Prayer Beads booklet, a velveteen storage pouch, and a lifetime restringing guarantee.
What do you think of these creations? Which is your favorite in this group? Please leave a comment to let me know.