I'm happy to announce some exciting new products: Horsey magnets and stickers for avid riders and horse owners. My acquisition of new cutting equipment has made the creation of these new products possible. They are available both on my website and at the Northeastern Nevada Museum's gift shop in Elko, Nevada.
Stickers
My Horsey Stickers are available in a two-pack. One sheet (shown above) contains good-sized stickers designed to share horse-related experiences and reminders. Some contain my encaustic herd horses in sticker form. These larger stickers will look great on envelopes or any indoor surface your heart desires. I took most of the stickers' scenic photos on my property or my many forays into Northeastern Nevada's Ruby Mountains.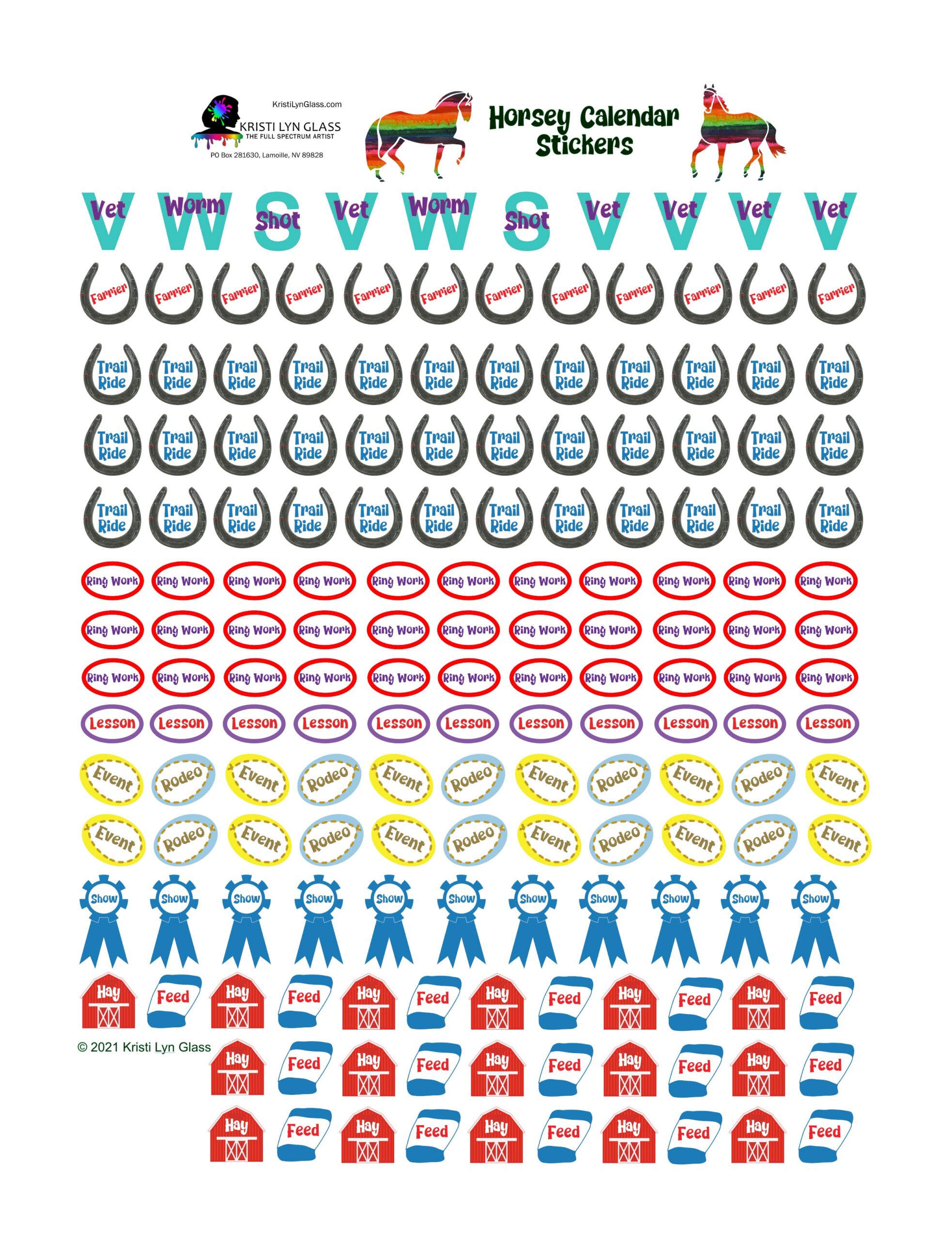 The two-pack's second sheet of smaller horsey stickers (shown above) is for use on day planners or other calendars. They will remind you of trail rides, lessons, ring work, rodeos, horse shows, or other upcoming events. On the practical side, there are stickers for vet visits, wormings, vaccinations, farrier appointments, and feed and hay purchases.
Each sheet is 8.5″ x 11″, and the matte-finish paper stickers have removable adhesive, suitable for indoor use. This Horsey Stickers two-pack is $10.00.
I'm also offering to create custom stickers at reasonable prices. Lots of options are available, so if this interests you, please contact me.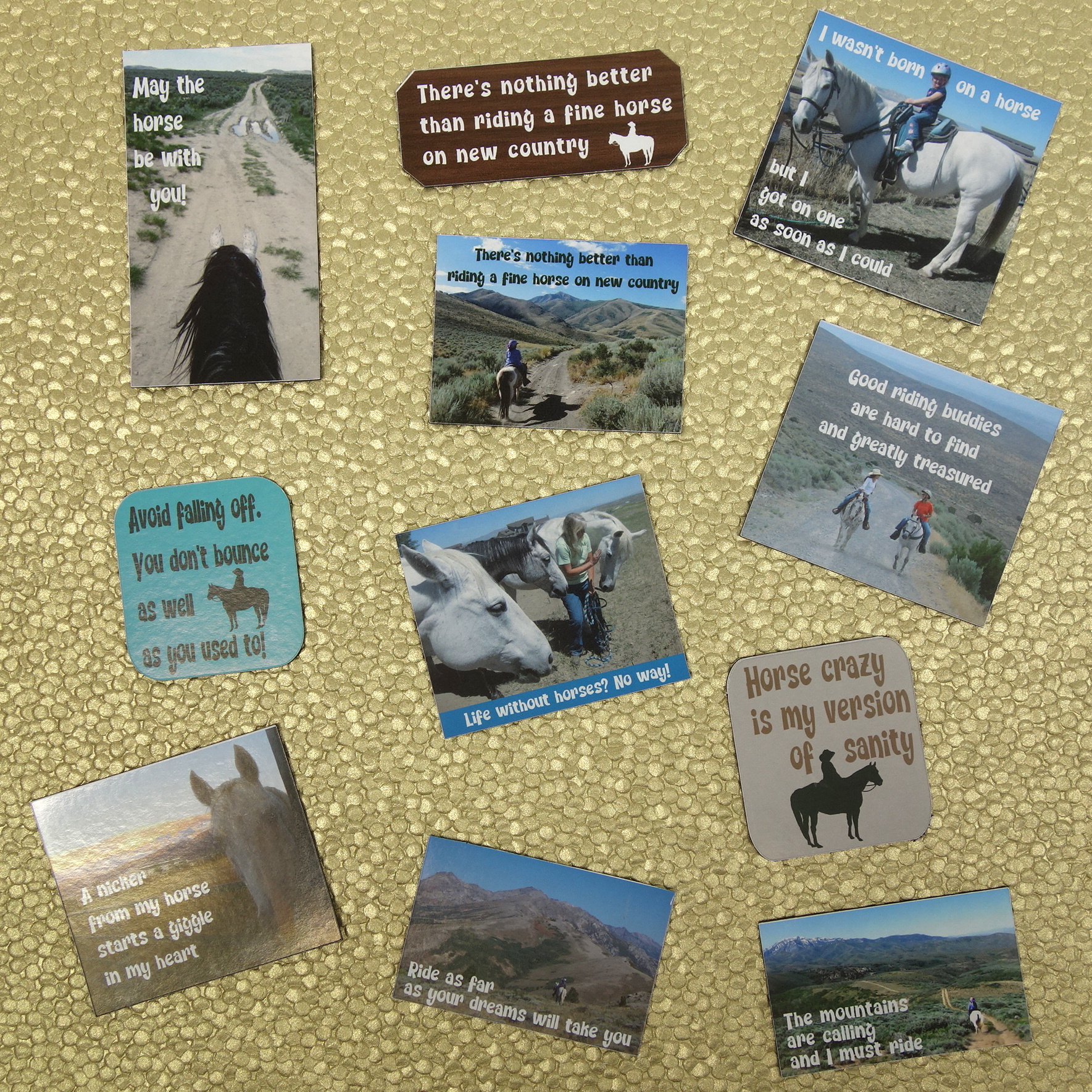 Magnets
In addition to the local area photo magnets and other artistic magnets I sell, I am now offering a line of glossy machine-cut magnets. The first ones are various Horsey Magnets, which are spin-offs from my larger Horsey Stickers. Each is currently priced at $2.50. Over time, I expect to add other magnets like these to my magnet product line.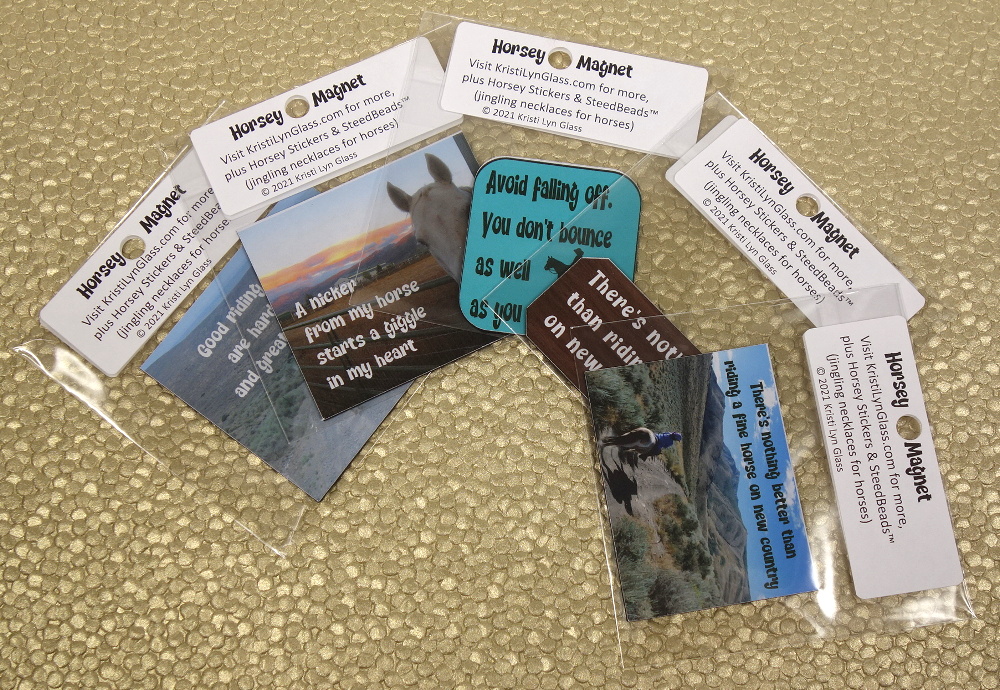 These machine-cut magnets are stronger and thicker than the freebie magnets you may receive in the mail. They can hold up a sheet or two of paper, but their primary use is to display their messages on a metal surface, such as a refrigerator door or inside a horse trailer's tack compartment.
I am also offering to print and cut custom magnets smaller than 8.5″ x 11″. Possibilities are only limited by your imagination, so if this interests you, please contact me.
Inspiration and Production
I happily received a Silhouette Cameo 4 printing/cutting machine from my husband for my spring birthday. This amazing machine comes with computer-design software that allows me to both create and import text, designs, artwork, and photos. I can then combine and transform these components in endless possible ways.
I can use either my Cameo or my inkjet printer to print these images on sticker or magnet-backed paper or a wide variety of materials up to 3mm thick. The Cameo will then precisely cut around these designs to turn them into stickers or magnets. My designs can also be cut my out of adhesive-backed vinyl, fabric, heat-transfer vinyl, balsa wood, and many other materials. The Cameo 4's printable/cutable area is 12″ x 9 feet.
Having never used this machine or its software before, I had to start somewhere to learn how to use them. This need inspired me to create these new sticker and magnet products to learn how to make them.
I recently used the Cameo to cut out laminated photos for my Local Area Photo Magnets. I used to painstakingly cut these out by hand before applying resin and strong round magnets to them. Prepping the existing photo files for cutting on the Cameo was another intense learning experience. In the future, I can use these new files to efficiently cut out laminated magnet photos with perfectly rounded corners.
Future Plans
I expect the Cameo's many other capabilities will inspire me to learn how to use them so I can integrate Cameo output into my artwork and other creations. My next Cameo adventure will involve learning how to design and cut adhesive-backed vinyl for use on my artwork, pillboxes, and UnderCovers.
Each Cameo medium has a variety of potential additions/tweaks/methods to offer, so the possibilities are extremely exciting and stimulating to my creative mind! Watch for these possibilities to impact my future creations in amazing ways.