I love making earrings! This new batch features some nice ones. Prices are very reasonable, and they're just in time for Christmas gifting. You may not want to part with yours, though, once you see them in person!
Several feature colorful lampworked glass cats and birds, adding new species to the dog and fish earrings already available on my website. I do love these intriguing little critters!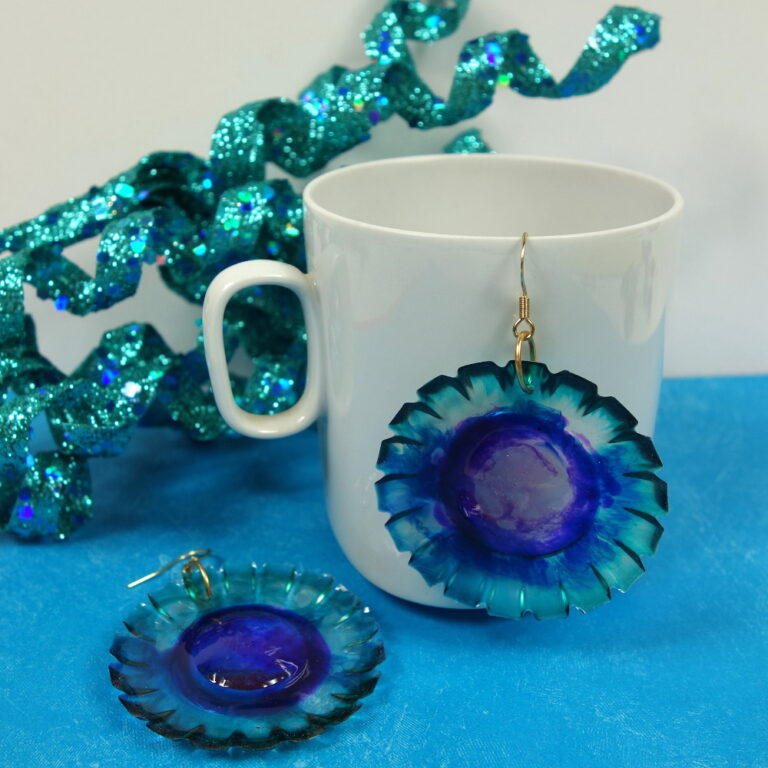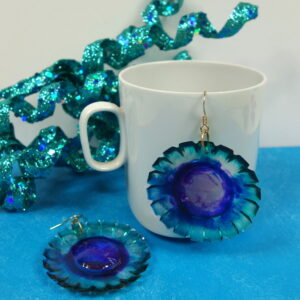 I made these unusual Blue Aqua Daisy Earrings out of resin using empty plastic fruit cups as molds. The domed bottoms of these molds created very thin (and fragile) bubble-like daisy centers. I had to carefully unmold the daisies, turn them over, and fill their bubbles' back sides with more resin. This made them durable enough to wear as earrings.
I colored the uncured resin with drops of blue and aqua alcohol ink, after pouring the clear resin into the molds. After several unsuccessful attempts, I was able to successfully unmold and refill a set that were similar enough in color to make this earring pair. There are many petal rings with no centers leftover from this experiment. I plan to make some of them into earrings, if I can find pairs that match.
Unfortunately, I realized (after creating several of these daisies) that I was using two different brands of fruit cups for molds. They had slightly different petal patterns! I then threw out the molds I had used less often and standardized on the mold pattern I used for these earrings.
This effort was a good way to use up leftover resin from other projects. However, attempting to make matching daisies like this for earrings is likely an endeavor I won't be pursuing. An additional challenge was unmolding the daisies without breaking the molds. (Fortunately, being a fruit cup lover, I had a steady supply of the molds.) After describing all these difficulties, I really should be charging more than $12.00 for these. ;o} Snap them up quickly, if they intrigue you!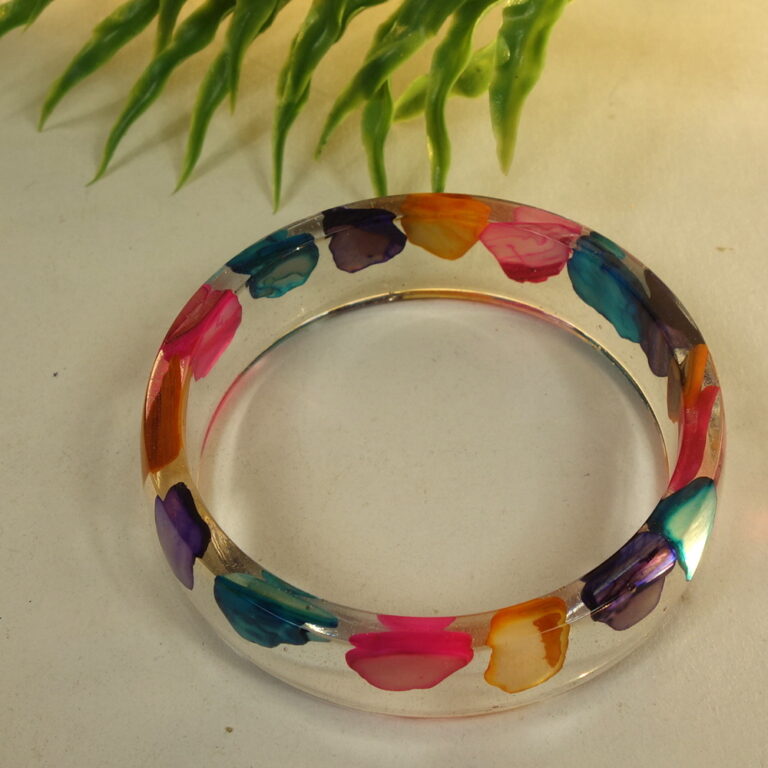 I recently purchased a new bracelet mold for resin, and the above is my first creation using it. The inclusions in this Rainbow Bracelet are jeweltone dyed seashell fragments. I do love rainbows!
My first pour into this mold resulted in a concave top edge. I therefore had to add a second pour of resin to dome that edge of the bracelet. Although it turned out fine, it was tricky. When making my next bracelet using this mold, I will try to dome the resin on the first pour.
I'm looking forward to experimenting with different inclusions for this type of bracelet. Watch for more of these to come with unusual designs, given my fertile imagination.
Check out all my unusual and interesting jewelry creations today!