Twelve new Protestant prayer beads are now available for sale on my website. They include 6 prayer bead necklaces that make lovely statements of faith when worn.
Some of these new creations have special features I'd like to highlight here.
Speaking of "light," perhaps the most unique set I've created yet is the Lightbulb Crosses Protestant Prayer Bead Necklace.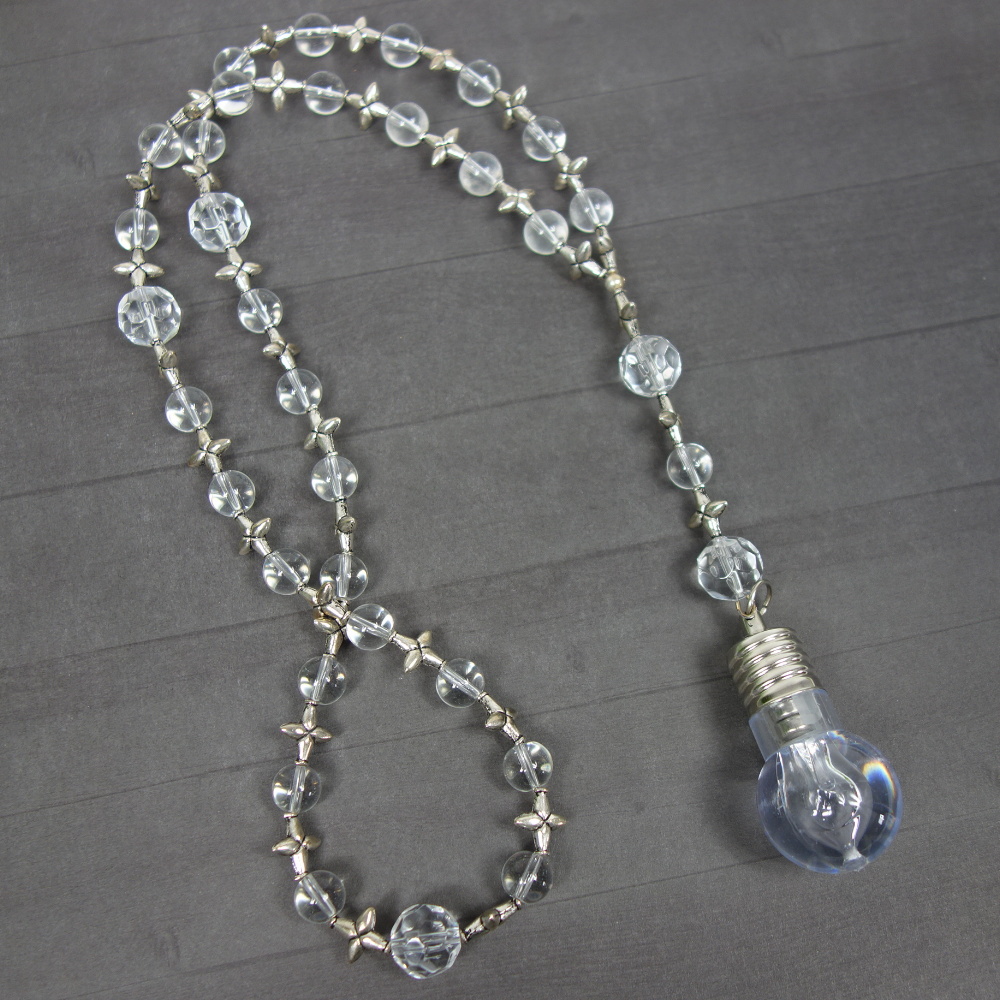 It features a real working LED light bulb pendant, bringing drama and new meaning to "Let there be Light!" or "He is the Light!" Pressing a small button on its base toggles on and off the bulb's colorful light show. Unscrewing the bulb's metal base allows for replacement of its disk battery.
Click this link: Lightbulb Prayer Bead Video to watch the lightbulb pendant's light show. (Have patience as the .mp4 file loads in a new window.) Or see its video pin on my Pinterest account.
The necklace's cross-shaped silver-plated spacer beads add meaning to its use during prayer time. The clear beads match the light bulb's shape, and they will pick up the color of whatever garment they overlay. I've been sorely tempted to keep this unusual creation for myself, but I decided I cannot keep its light under my own bushel. Check it out here on my website, and if it interests you, I suggest you snap it up fast.
Another unusual creation in this batch is the Blue Hearts Window Protestant Prayer Bead Necklace.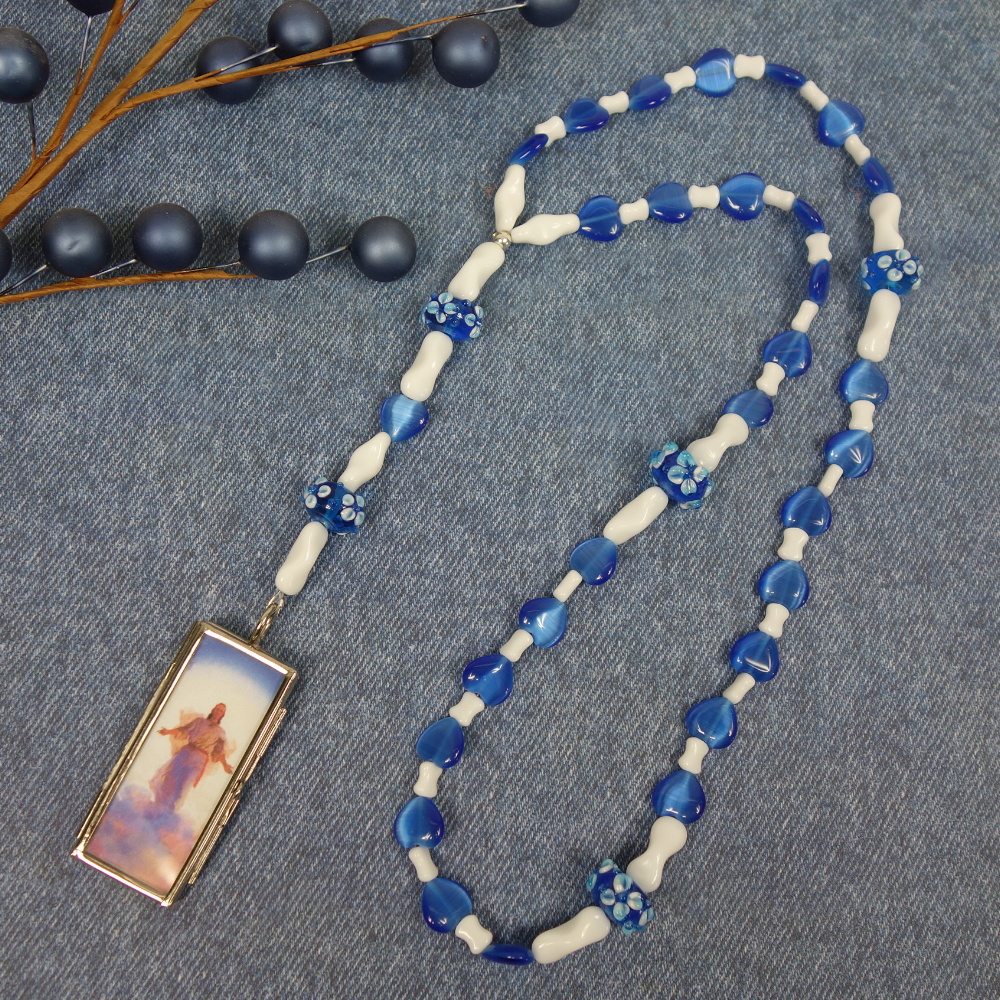 In addition to its beautiful lampworked flower Cruciform beads and cat's eye heart Week beads, it features a versatile opening windowpane pendant. Opening the pendant's latch allows you put contain whatever you please inside, as long as it fits between the two panes of glass. The inclusion will be viewable from both sides of the pendant. It comes with a folded paper insert that has a picture of Jesus on one side and a list of potential prayer topics on the other.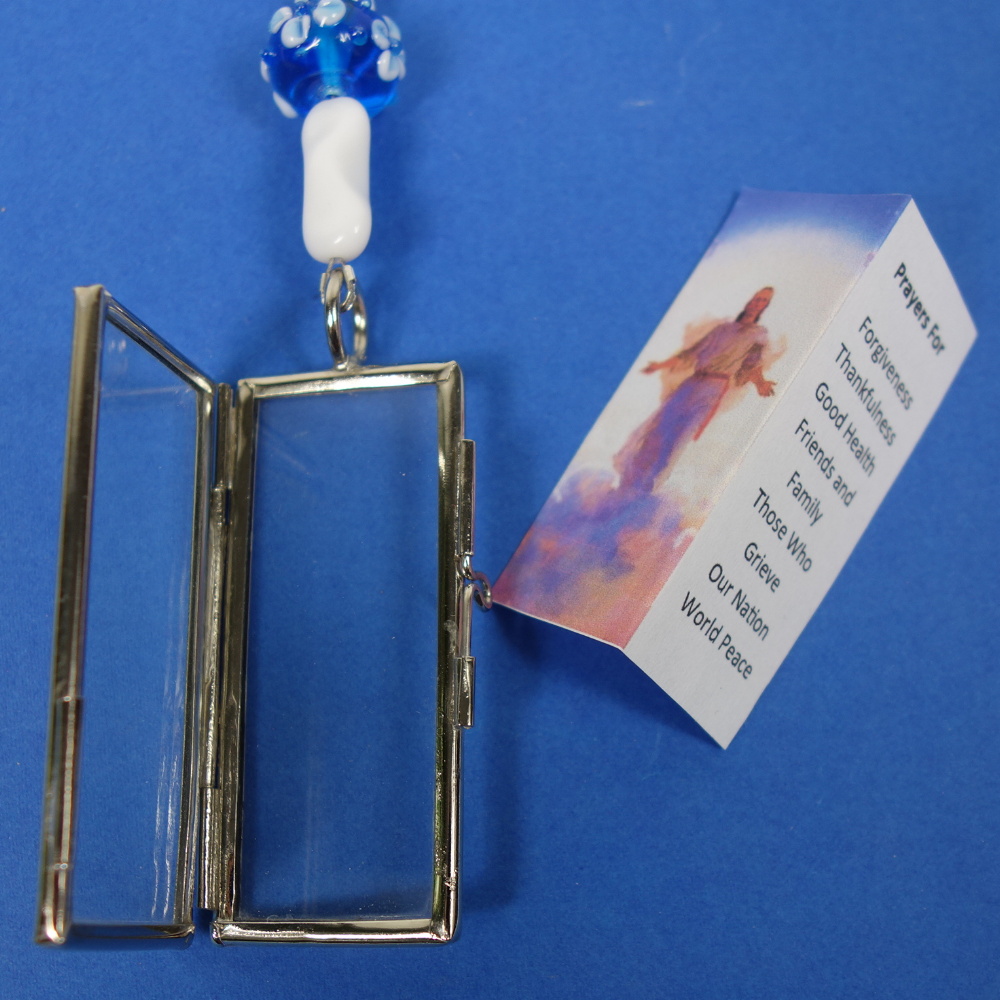 Imagine the possibilities! You could insert prayer requests, photos, a list of people or outcomes you typically pray for, scripture verses . . . the list goes on. Check out its details here.
If a customizable pendant for your prayer beads interests you, my Golden Prayer Box Cross Anglican Prayer Beads also offer an opening pendant.
Given all that is going on in our world these days, prayers for the world, our country, and our military are definitely in order. My Patriot Hearts Protestant Prayer Bead Necklace not only provides focus for such prayers, but also serves as a relevant statement of faith.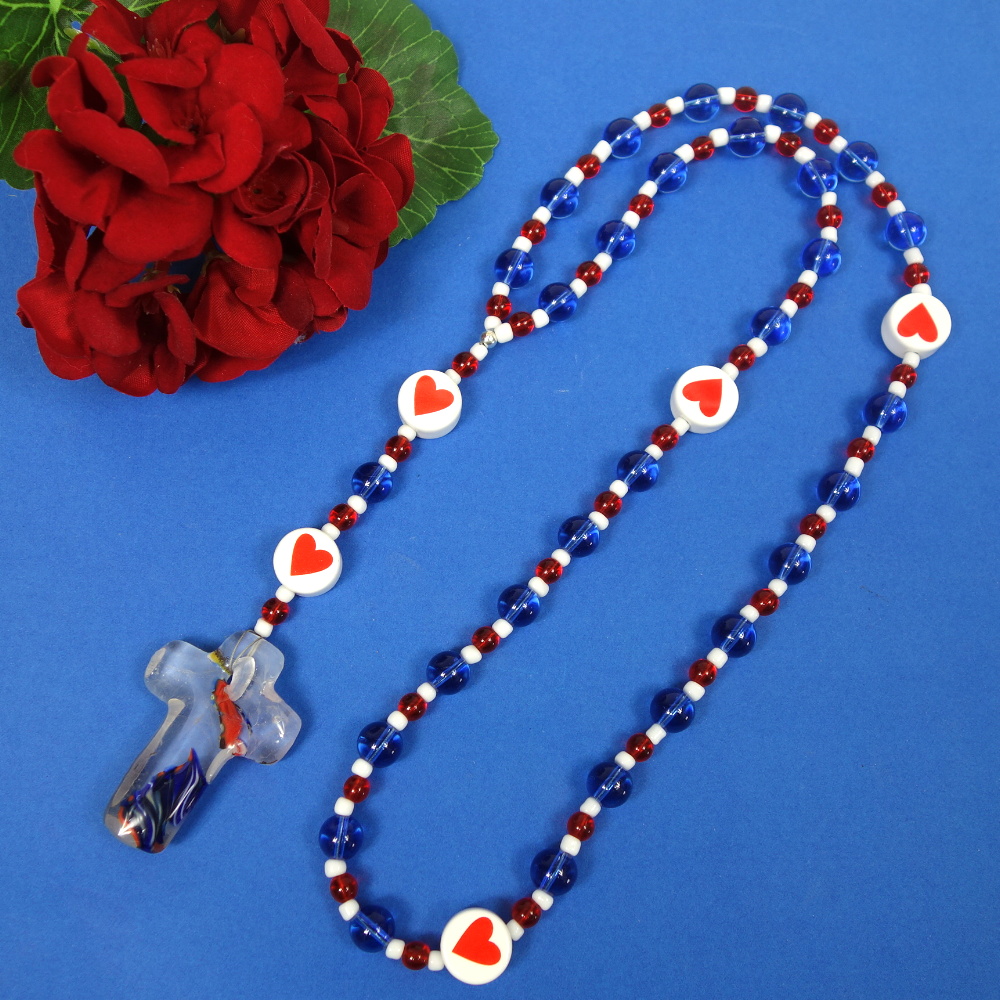 Its patriotic colors and red heart ceramic Cruciform beads definitely present a heartfelt message that will also enhance one's prayers during time spent with our Lord. Its unique matching molded glass cross also feels comforting in hand.
Speaking of comfort, many believe Hematite is a healing and grounding stone that strengthens the body, transforms negativity, and helps handle stress. It also may enhance personal magnetism, optimism, and courage. What better stone to use in prayer beads?
To this end, I created my Hematite Rings Protestant Prayer Beads.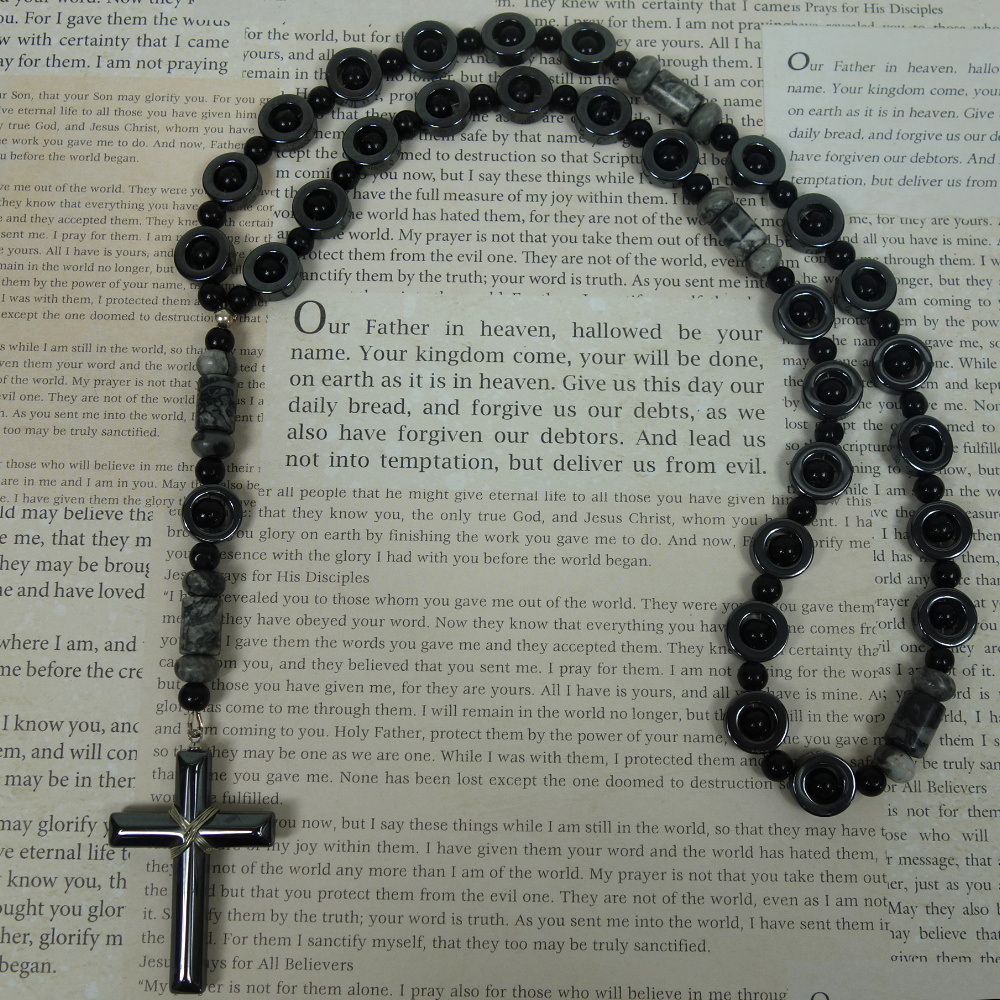 They not only feature a double-sided wire-wrapped hematite cross, but also finger-friendly hematite roller-ball Week Beads. I love rolling theses balls with my finger tips as I contemplate each Week bead's prayer topic. I'll bet you will, too! The stone Cruciform beads add to the comforting weight of this all-stone set of prayer beads. Check it out here.
I enjoy combining complementary beads and components in my prayer beads, as you can see from the above examples. I could go on raving here about other sets of prayer beads in this batch, such as those containing aqua butterflies, black and teal agates, purple daisies, gray shells, and aqua stars. However, I suggest you visit my website to see all the details about the other prayer beads in this batch. They are currently viewable as a group in the New Products category. When they are no longer "New," you can find them (if unsold) among my many other prayer beads.
My necklace and regular-length prayer beads sell for $32.00 each. Purchase includes a lifetime free restringing guarantee and my 16-page full-color booklet containing prayer bead pictures, their history and symbolism, instructions for their use, and nine sample prayers.
Prayer beads make excellent gifts, too! If you are not sure whether your giftee will actually use prayer beads during prayer, I suggest sending them a necklace length set. It will introduce them to the concept of using prayer beads to enhance and organize their prayer time while also serving as a beautiful statement of faith when worn. If you want to allow your giftee to pick out their own set of prayer beads, contact me. I will be happy to email him or her a gift certificate for the set of their choice.
Please leave a comment on this post to let me know what you think of this new batch of lovelies. To God be the glory!